Improving Your School's First Impression
8 min read
Jul 26, 2022 8:00:00 AM
Learn why a good first impression is important for schools and how you can improve yours.
Think about the first impression a prospective parent has with your school.
You may be envisioning them walking up your steps, admiring the flowers that your PTO planted over the summer.
You can picture them being impressed by the beautiful mural your art classes created in the lobby. And you know that when they meet your awesome school secretary, they will feel the love and welcoming attitude you try to create at your school.
But is this really the first time they engage with you?
Most of the time, a parent or guardian's first interaction or exposure to your school will be via phone or their computer as they research you online. All the hard work you did in making your front office welcoming and engaging will not matter if they have not been convinced you are worth visiting in the first place.
If you do not provide a great "digital first impression," it's unlikely they will ever come visit your school in person.
Here are three simple tips for schools to ensure that their digital first impression is the best it can be!
1. Ensure Parents Can Find You When They're Using Google
The first step that almost all parents will do is perform a Google search on you.
This may be your school's name, or it may be characteristics like "school near me," "best school in my town," or "STEM school." Put yourself in the shoes of your prospective parent and try this. Think about what you are known for or what you think a parent would use to search for you and Google it.
Try it. Search "[your city] schools."
Did your school show up?
If it didn't — or you showed up, but on page 12 — then you need to improve your local web presence. And if your school did show up, do this again with your browser in incognito mode.
Here is an example I got when I typed in "Boston schools" with Google Incognito: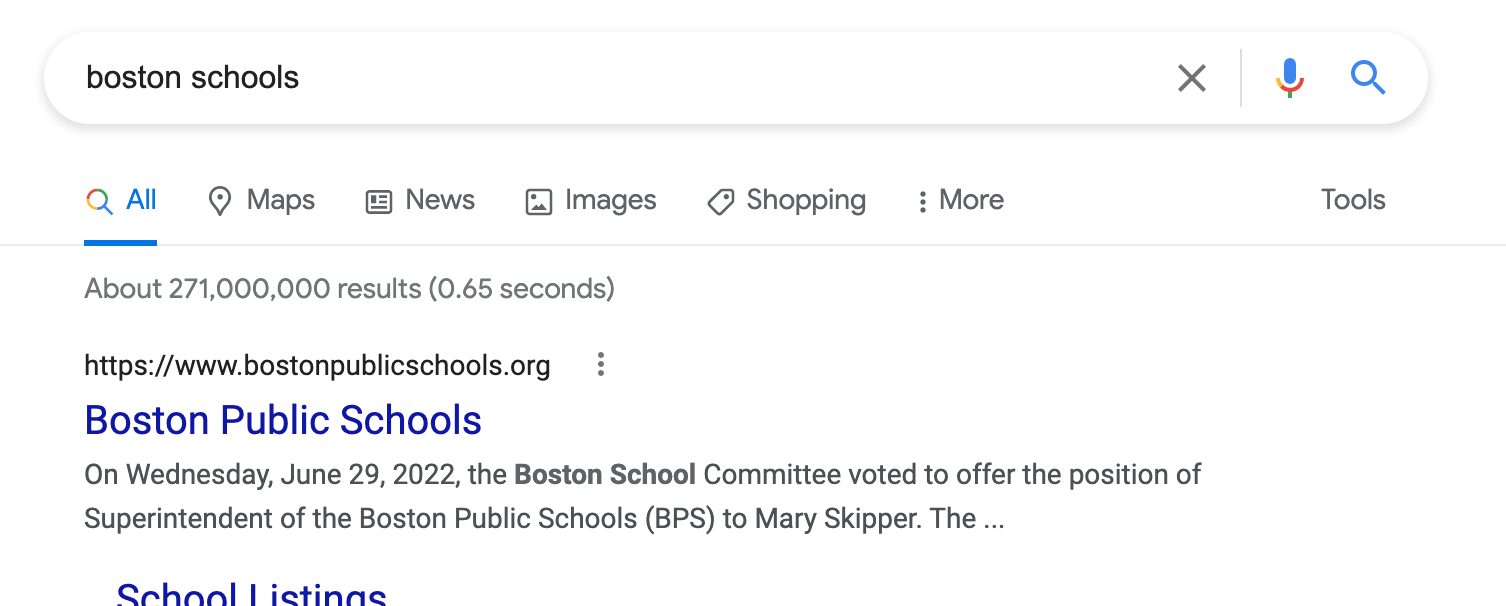 Boston Public Schools has great SEO since they appeared as the very first result. In fact, it even ranked about the highly coveted Google 3-pack (which I will explain below).
However, your browser might know that you look at your school website often, and so when you do a Google search on your school, Google will pull it up automatically or rank it higher than it would if you were not a regular website visitor.
You want to mimic a parent who hasn't been to your website before.
The first step in ensuring your school shows up in a Google search is to ensure you've claimed your site via Google Business Profile.
Since Google is by far the largest search engine, it's critical Google has the most accurate information about your school to display when people are searching. Google Business Profile is a free and critical step to complete to improve your local web presence.
Having an accurate Google Business Profile listing will improve your likelihood of showing up in search, will provide your information when people use Google Maps, and, most importantly, will increase your chances of showing up on the coveted "Google 3-pack," which is the map that shows the most relevant answers to the search query.
Here is an example of the 3-pack that appears when searching "best school near me" in SchoolMint's home city of Lafayette, Louisiana: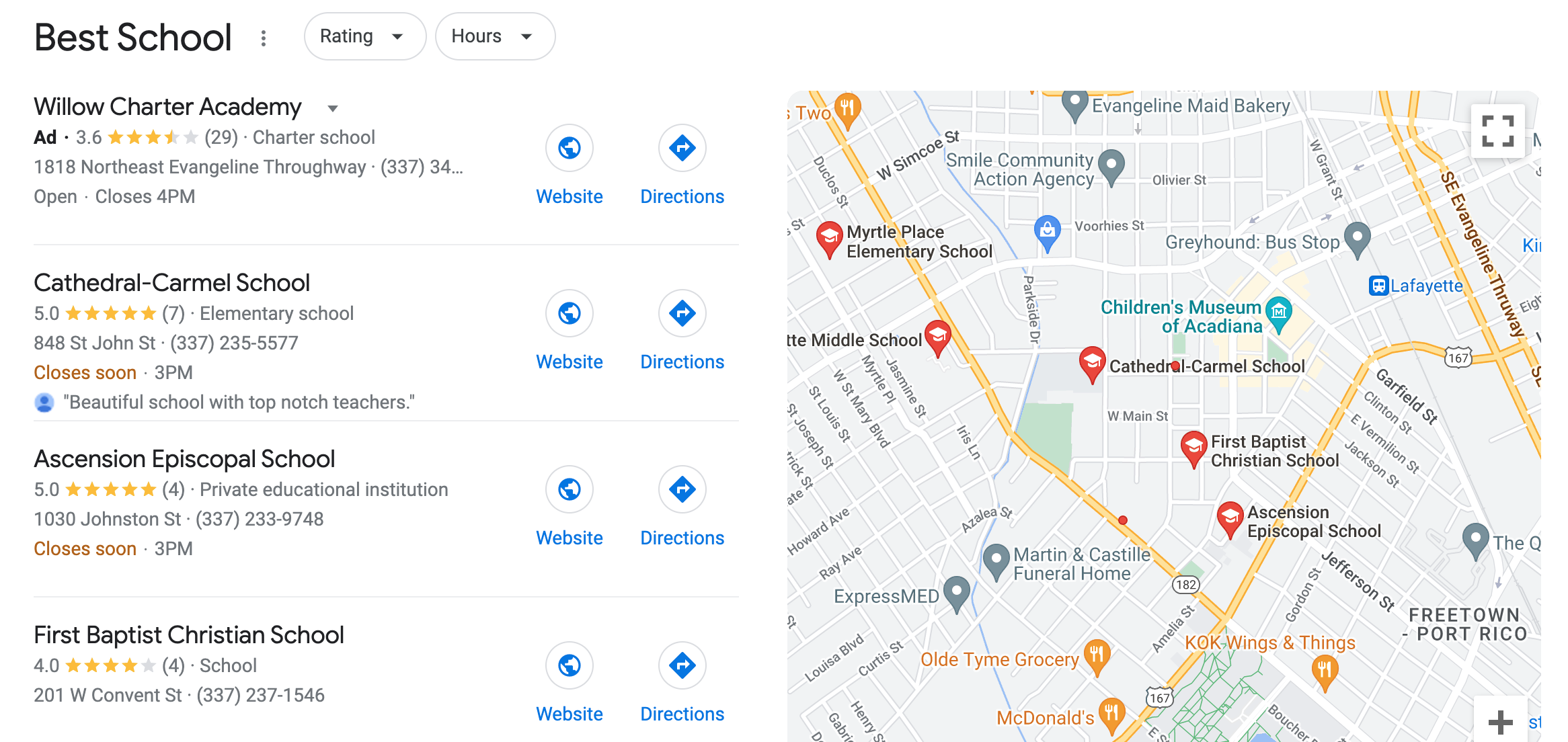 Notice the very first result is a paid ad, and so it ranks higher than the three schools below, which are appearing "organically" (i.e., appearing despite being unpaid). You can learn more about digital advertising for schools here.
Why is the Google 3-pack so important for schools?
The Google 3-Pack appears before any other organic search, so if you are just getting started in digital marketing and don't have strong SEO, this is a great way for you to leapfrog ahead of sites that do.
Being registered with local Google also allows you to accept reviews on Google. Having a lot of positive reviews on Google also will improve your likelihood of showing up in a search, because Google will prioritize sites that have a lot of reviews.
Whomever designed your website should have registered it with Local Google. But if it wasn't done, don't worry — it's very easy to do! Read about the process here.
2. Be Present and Positive in Online Review Sites
Wouldn't it be great if every time a prospective parent was thinking about your school that they heard a chorus of happy, satisfied parents singing your praises?
Well, that is what online reviews can do for you. For example, Madison Elementary School in San Leandro, California, has a profile with GreatSchools. A parent landing on this page is immediately greeted by a very positive first impression of Madison Elementary:

If you scroll even farther down their page, you can read testimonials from happy parents and guardians as well as their comments about different aspects (homework, bullying, etc.) of the school.
Conversely, think about the experience of a parent who is researching your school. Imagine if the first thing they see is a disgruntled parent talking about how bad your school is.
Even if their review is false, other families will see that. And they will form their first impression of your school from that.
Like it or not, online reviews are now a critical part of your school's marketing mix.
You may not be able to prevent people from leaving poor reviews, but you can counter them by having several positive reviews from your parents — like this: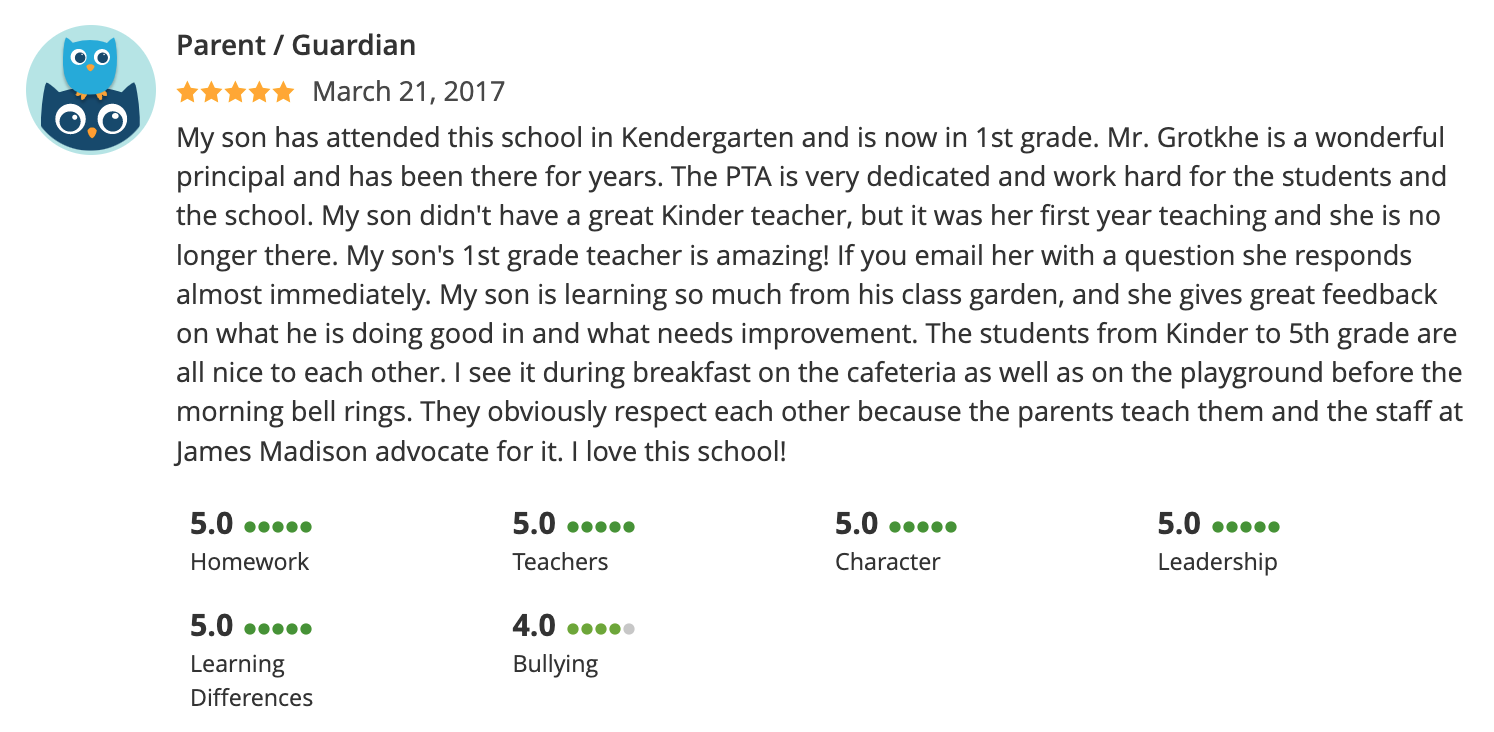 At the beginning of the year, identify the review sites you want positive reviews on. I would prioritize Facebook, Google, GreatSchools, and Niche.
Ask parents to try to place four to five great reviews every semester. You may even want to help them by saying, "We really would like you to mention X in your review." This way you can reinforce what you think is a key benefit of your school and help push any negative review down to the bottom.
Having a good presence on online review sites is important because they will generally show up before your school when parents are searching phrases like "Best school" or "Top STEM Program."
This is because these sites spend a lot more money on their local search engine optimization (SEO), which makes their sites show up before yours.
It's important that when these sites profile your school that their information is accurate.
The best way to ensure these sites have true facts about your school is to engage with them and provide updated, correct information. Make sure you're "claiming" your profile with them and updating the information about your school.
For a lot of parents, the first time they research your school is via online review sites. So they're pretty important.
3. Make Your School Website the Best it Can Be
For many school administrators, thinking about updating and improving their website can be a stressful and scary undertaking. For us non-techies, this is not a task that we relish.
But your website is the cornerstone and most important thing in your enrollment marketing to get right. Every prospective parent will visit your website at least once when they are researching your school, so you can't overlook it.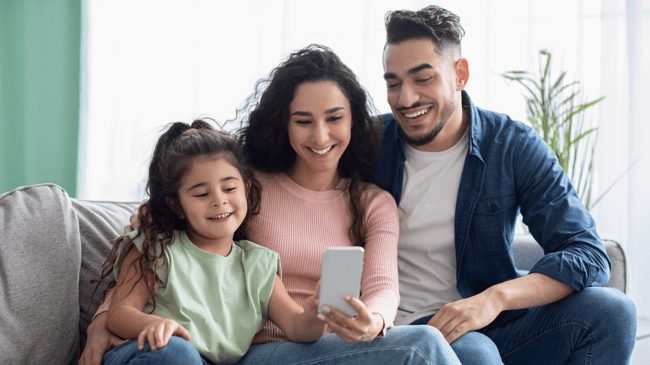 Once a year, review your website for accuracy:
Are all your staff members correct?

Are there broken links?

Is there outdated information?
Having a poor website is going to impact your enrollment efforts in a significant way. And right or wrong, parents are judging the quality of your school by the quality of your website.
If your website is halfway finished or has a bunch of broken links, they may assume your school is run in the same fashion. They may not give you the opportunity to explain why you haven't gotten around to updating your school website.
Next, ensure you have testimonials from happy parents on your site. You can take this information from your online reviews or ask parents if they would write you a testimonial you can use on the website. Testimonials are a great way to "sell" your school to prospective parents.
Here is an example from Garland ISD's website. They take website testimonials it a step further and using a testimonial from a successful alumni: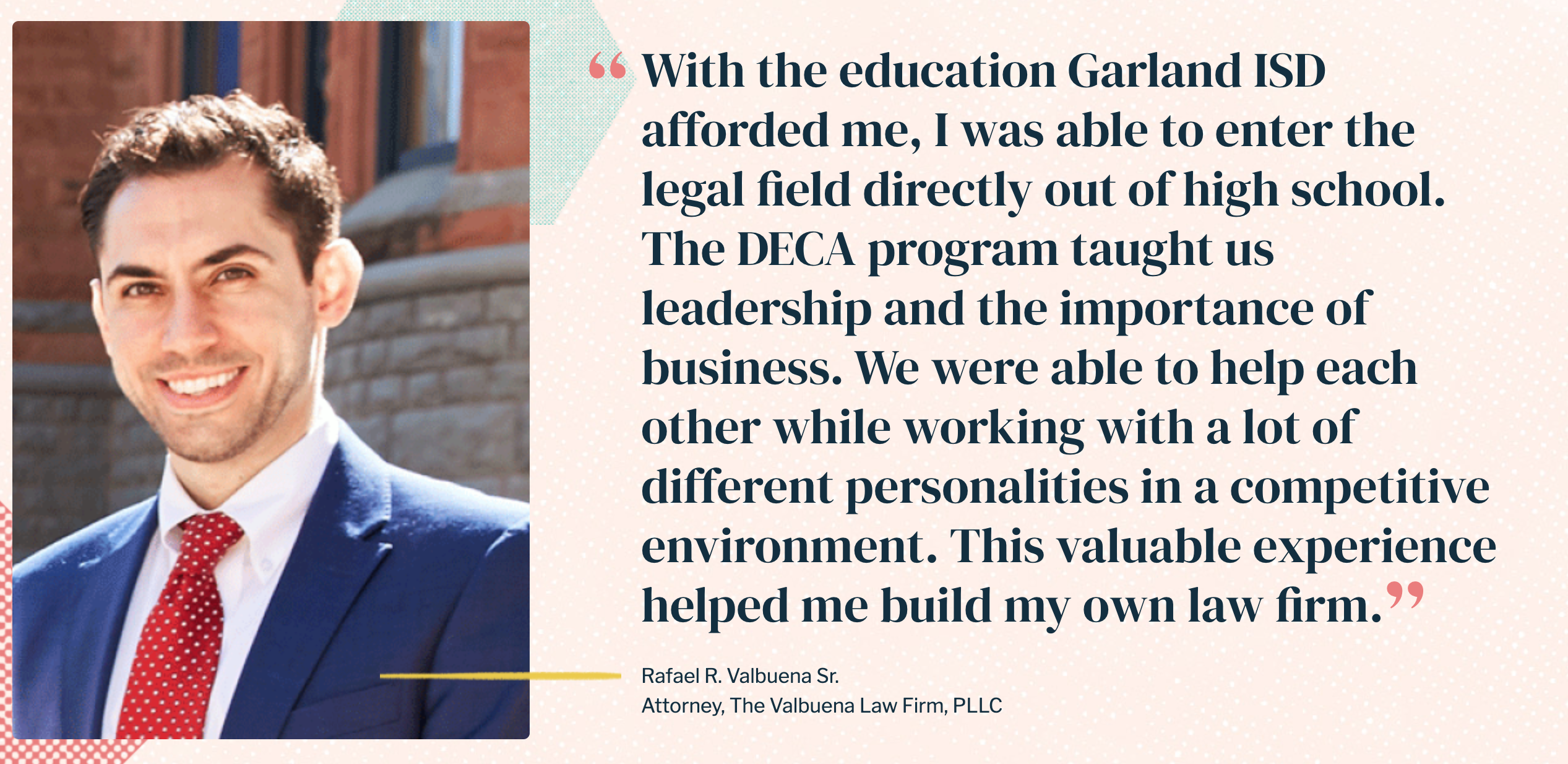 Finally, review the pictures and imagery you're using on your site. Remember, a picture tells a thousand words, so your site needs to be heavy on pictures and lighter on copy. If more than 30% of the page is copy, think of ways to decrease this, and use images to tell your story.
Examine the photos you're using to ensure they're appropriately diverse and representative of the students that you are trying to attract. People want to be able to envision their child at your school. If they don't see kids that look like their kids, they may have second thoughts about taking the next step of engaging with your school.
Also, are you using your website to identify leads? Having a great website is only part of the task.
You must be able to identify who is visiting your site so you can proactively follow up with them. Getting traffic to your website is great, but if you don't know who they are, and can't proactively reach out to them, it doesn't matter how many people visit your website.
I covered how to identify website visitors in this blog post.
You only get one chance to make a first impression. And first impressions will rule a school in or out of further consideration. With many steps in the enrollment process, it's critical to get your digital first impression right.
Every step should be designed to change a prospective parent into an enrolled parent. These are some easy things you can do to ensure that parents are giving your school a chance at second and third impressions — and, hopefully, giving you a chance at enrollment.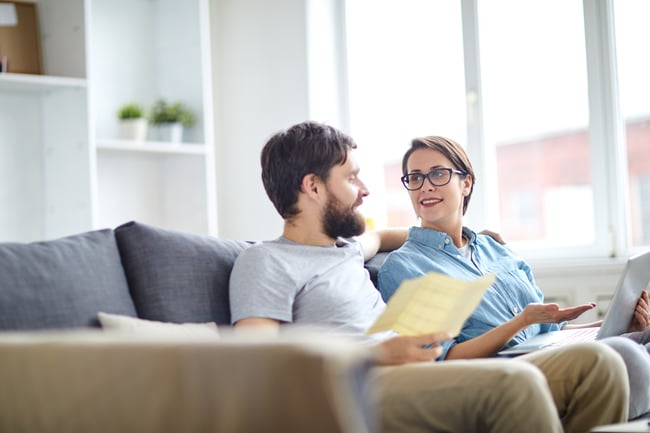 Want to know more about improving your school's website and digital first impression?
SchoolMint offers two solutions that can help you:
SchoolMint's marketing services, which can help you audit the strengths and weaknesses of your school or district's current site, offering tips and tricks for your online enrollment marketing. Additionally, we offer secret-shopper services. Click here to see what our specialists can do for you.
We also offer SchoolMint Engage, which can help you improve your school website's SEO, manage online reviews, and create an enrollment microsite.