5 Tips to Improve Your School's Facebook Page
6 min read
May 31, 2022 8:00:00 AM
Here are five ways you can improve your school's Facebook page.
Facebook. Love it or hate it, your students' parents are most likely on it.
Parents use Facebook to share photos, join local groups, give recommendations, and leave reviews. So it makes sense that this digital gathering space is how many families start to gather information about schools for their children.
Setting up a Facebook page for your school is easy enough. But figuring out how to make the most of your school's page as a student recruitment tool?
That can be a big undertaking.
So if you're looking for ways to optimize your school's Facebook experience for new families and elevate your marketing, we've got you covered below (as well as in our previous article, Improving Your School's Social Media Activities.)
Check out our five tips for how schools should be using Facebook to attract and engage prospective families!
School Facebook Tip #1: Post Pictures and Videos
Schools often fall into the trap of using social media as an existing parents-only resource, with mostly announcement-style posts:
Sharing the lunch menu
Snow day announcements
Early release days
Graduation dates
Undoubtedly, these are helpful for your following families. But beyond their obvious utility, they're not doing much for your school's brand.
If sharing out logistics and updates is all you're doing, you're missing out on the branding and storytelling Facebook can help you accomplish.
While text posts are useful to share information quickly, photos, and videos are the best way to capture attention.
Not only are pictures and videos more likely to be seen and engaged with but they are also an incredibly authentic, fun way to share what the student and staff experience is like at your school.
The best way to see what's resonating with your audience and their friends and families is to look at your posts' metrics.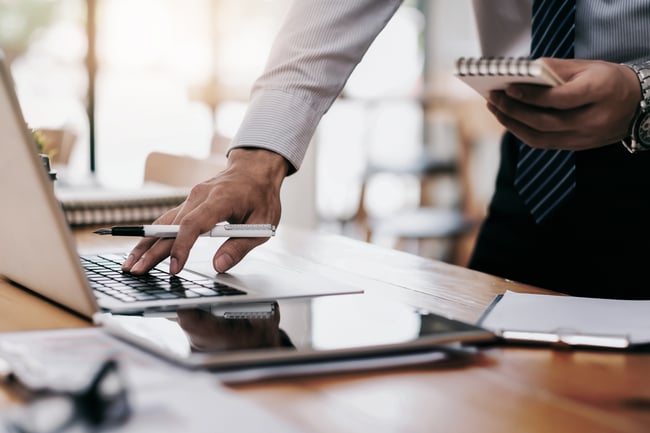 Sharing is one of your key metrics when targeting student recruitment because it represents the content being shared outside the group of people who are already following you. It connects your content with non-followers for you!
Use this data to inform your strategy. Examine what themes and content are being shared widely as well as what people share and react to.
Click the below image to download our guide, How to Assess Your School's Marketing, to get a printable worksheet that'll help you discover what content people enjoy most from your school's social media accounts: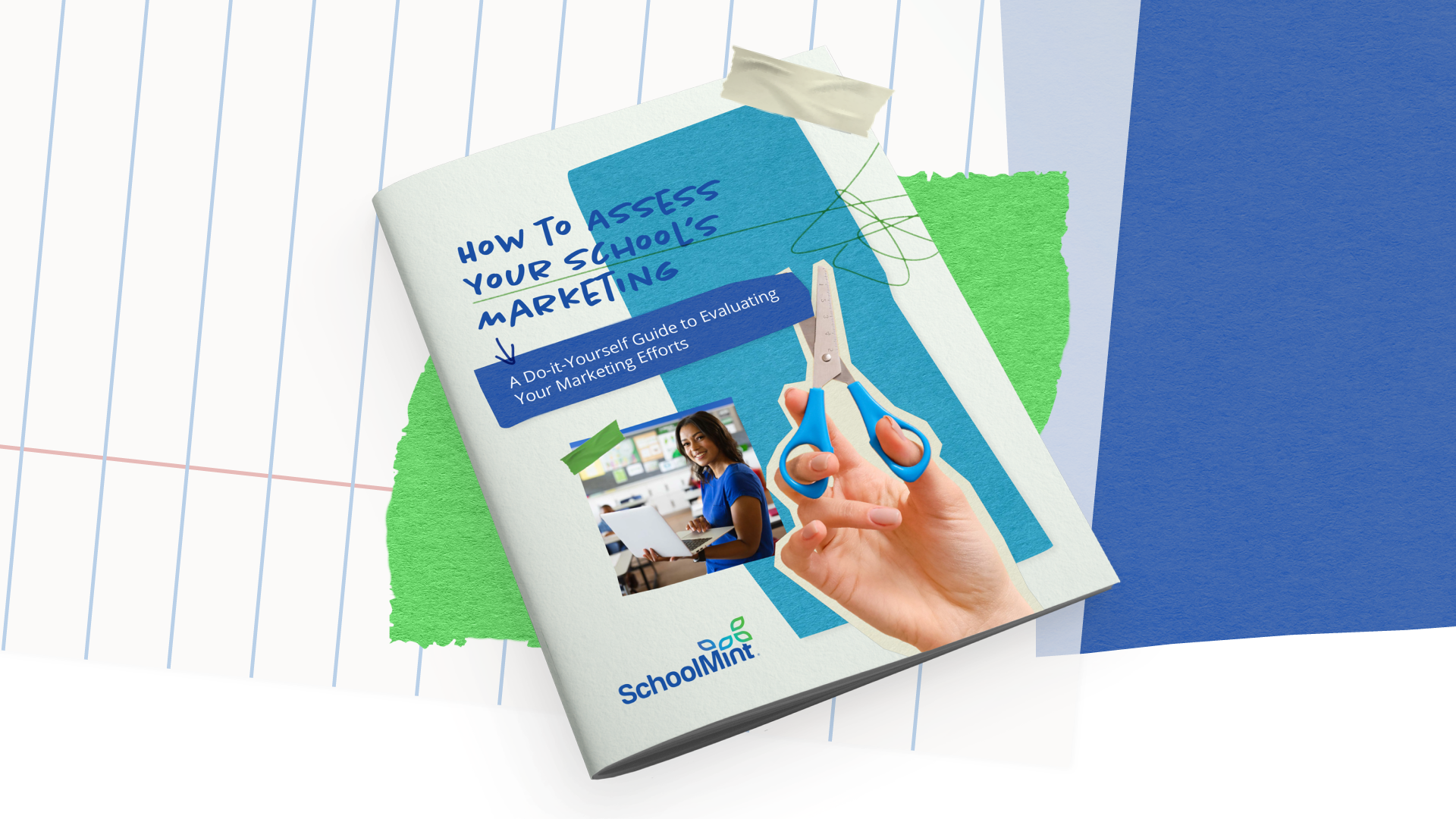 This will give you some valuable insight into what your followers find most interesting about your school. As you continue to create content families want to see, engagement will rise, which will directly impact your posts' organic reach as well.
School Facebook Tip #2: Use Automation in Facebook Messenger
Many younger parents have become accustomed to connecting with businesses and services via social media, and Facebook is one of the first places they check.
If your school does not have automated responses, or bots, set up within Facebook Messenger, you're missing out on a valuable opportunity to automate your processes and give families quick information.
In addition to responding within the chat window with answers, your pre-set frequently asked chat questions can also be displayed at the top of your business page, allowing families to click them and interact with your school right away via Facebook Messenger.
While the automated responses don't take the place of human interaction, they can provide interested families with quick answers to the most frequently asked questions.
For example, these types of questions are easy enough to answer in an automated message:
Can I schedule a school tour?
How do I enroll my student at XYZ school?
Then, when you're free, you can send a personalized follow-up through Messenger, ensuring the family got their questions answered and encouraging them to take the next step in getting their student enrolled.
Another benefit to using bots in your school's Facebook messenger: you can give families a good customer service experience by having quick response times without needing to monitor your Facebook inbox constantly.
Conversation starters, frequently asked questions, and automated replies can all be set up easily and quickly within Facebook Business Suite.
For an example of a school doing this well, see how Anderson Preparatory Academy does it on their Facebook: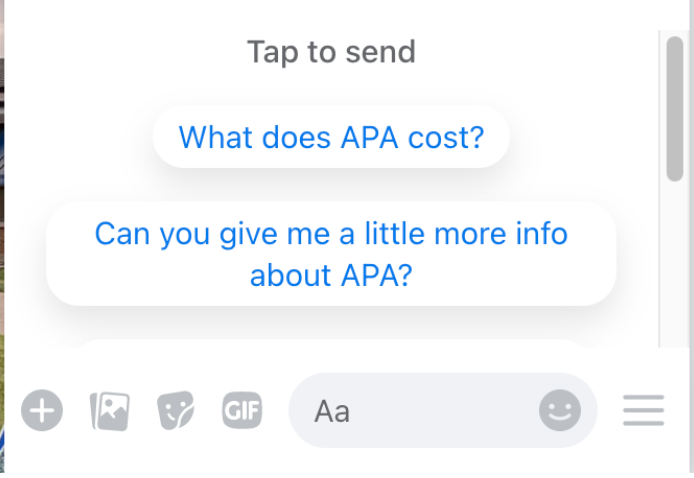 School Facebook Tip #3: Provide Complete and Accurate Information
Your Facebook page may very well be the first interaction families have with your school. Make sure your page is set up to give a great first impression!
Although having a complete and accurate profile may seem like an obvious tip, many schools' Facebook pages are incomplete or outdated, which allows a valuable connection opportunity with potential parents to go to waste.
Your school's information should be up to date and accurate, including:
Location information
Business category
Website link
Bio
Contact information
Also, include information about enrolling students somewhere prominent on your page. Make sure to use a profile photo that is clearly branded with your school's name or logo and a header image that fits your visual identity and style.
You have the opportunity to highlight your school's history, value proposition, and enrollment process in your About section.
Don't forget to update this information when information regarding your school or enrollment dates change.
School Facebook Tip #4: Run Facebook Advertising
When developing a marketing strategy for your school, it's important to understand where your potential parents are spending a lot of time and getting information, which is, for many of them, social media.
Facebook is an excellent advertising tool to reach parents. In fact, one study showed that of moms who use social media, 81% were on Facebook.
This is the exact target market many schools are trying to reach. And they are all in one place.
Unfortunately for schools, Facebook advertising can be a big undertaking with a lot of trial and error involved. It takes time to properly target an audience, test ads, and optimize your budget.
For some schools, it's time that they just don't have.
If you are someone who isn't a social media marketer by trade, you might consider outsourcing some of your social media marketing to an organization that is both well-versed in social media marketing and education to get the biggest bang for your buck.
While bringing in an expert may come with a bigger initial price tag, it will almost certainly come with a more impactful result.
The benefits of a well-designed social media campaign with accurate targeting parameters are that you'll get qualified leads that are more likely to convert to students, get more exposure, and likely grow your following.
For info on how SchoolMint can help with your social media marketing efforts, learn more about Enrollhand.
School Facebook Tip #5: Don't Forget Events
Facebook events are a great way to get people to engage with your school and to mobilize your active followers. Open houses, back-to-school BBQs, or school info sessions are a great place to get started.
When creating an event, list the event as public so that your followers can share the post to invite their networks.
Events are great because people can see what events their friends are planning on attending — in addition to RSVP-ing themselves.
If a person has marked they plan to attend an event, their friends can see it. This gives you free exposure to their friend list, who are more than likely local and potentially prospective parents as well!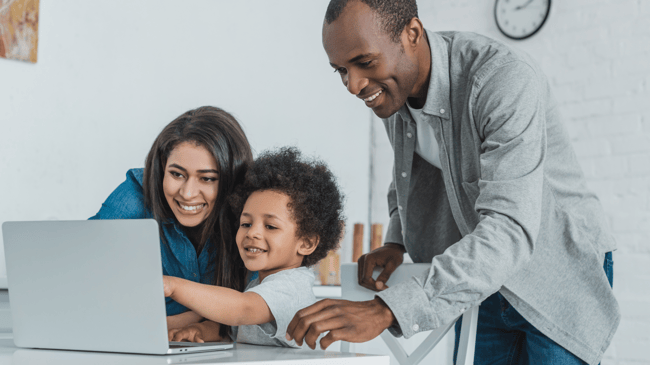 Bonus Tip
Don't forget that you can configure the call-to-action button at the top of your page to encourage families to take the next step in the enrollment journey.
Whether it's watching a video, signing up for a newsletter, or making a phone call, this is a great opportunity to give families the option to learn more about your school!
For an example of a school using this action button to direct families to a video, check out Brebeuf Jesuit's Facebook page here.
---
Facebook is one of the most important digital recruitment tools your school has, and it's critical to do it well.
From having updated information to automated messaging, these simple steps can ensure your potential families are even more interested in your school after visiting your page.
Want to learn how SchoolMint can help you advertise your school on Facebook? Click the banner!
No Comments Yet
Let us know what you think