Creating a Strong School Brand: 10 Questions You Need to Answer
9 min read
Aug 10, 2023 8:00:00 AM
Struggling to understand your school's brand? Here are 10 questions to ask yourself to get on track to a strong, compelling story.
With the rise in school choice, today's parents and guardians face a dizzying, oft-daunting array of education options. From private and religious institutions to charter schools, magnet academies, traditional district schools, virtual schools, and homeschooling options, the modern K-12 arena is rich with possibilities.
Amidst this abundance, how can parents make an enrollment decision? And not just make a decision but also have confidence they've made the right decision?
The key lies in your school's brand — your ability to stand out and communicate why you're not just a good choice but are, in fact, a top choice.
Below, you'll learn the importance of school branding as well as 10 questions you should answer to craft your brand.
What's a School Brand, Anyway?
Your school's brand is more than just your logo and school colors. It's the totality of you: your offerings, people's experiences with your school, community perceptions, how people feel when they hear your name, and so much more.
Your brand communicates your school's story — that is, what sets you apart from all other schools in your area. Your brand can be the difference between repelling prospective families or building an emotional connection that entices them to enroll.
Simply put, branding is your opportunity to not just tell families why they should choose your school over all other options but also show them.
But how do you discover what your brand is? Start with the 10 questions below.

1. What is Our School's History?
Whether your school has been around for a century or just a few years, your history matters and is the beginning of the story you want to share with parents. Additionally, your current brand may actually be deeply tied to your school's origin.
For example, a school that's been around since 1895 can lean into their prestigious historical roots and symbol as a pillar of the community. By contrast, a three-year-old school can build their brand around the fact they filled an unmet demand in their community, such as a STEM program, unique approach to academics, or foreign language immersion.
To see what brand value your school's history offers, think through these questions:
When was your school founded — and by whom?
What was the original intention behind your school's founding?
How have you helped your community throughout your school's history?
Do you have notable alumni? What do they go on to do?
Are your former students passionate about your school?
Have alumni offer their testimonials and fond memories of your school. Share your success stories, and treasure your school's past while looking ahead to the future. Bonus: share these testimonials in video format.
Here is an example of an alumni testimonial from The Waldorf School of San Diego's website: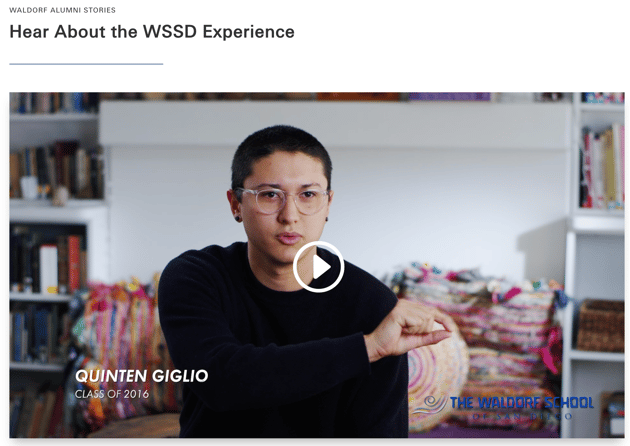 2. What Do We Do Best?
Why does your school exist? How is your school different? What do you hope to accomplish with students? To make an enrollment decision, parents want to know what is special about your school, and so you want to loudly and proudly highlight your strengths.
For example, those strengths may be:
Highly qualified teachers
State-of-the-art facilities
A rigorous curriculum
Fantastic arts program
Character education
A high-achieving sports program
Whatever it is you have or do well, lean into it — especially if neighboring schools aren't promoting those things or if they don't have them period.
Education World's George Pawlas suggests school administrators should commit to memory a list of six great things their school does well. He describes these as "Pride Statements."
Here are a few examples of pride statements he shares:
"Partin Elementary has consistently held A-Plus and Five-Star ratings."
"Edgewater High School has a wonderfully diverse, multicultural body that represents the real world."
"We have a renaissance program — a school-wide program promoting academics, social responsibility, and attendance."
"Our school has an anti-bullying program and encourages ongoing teacher training."
"Our high school is the Engineering, Science, and Technology (EST) magnet school for the county."
Think about your school. What do you do best? Parents want to know.
3. How Do We Promote Our School to Local Families?
While it isn't fun to think about schools in this way, they share many similarities with businesses. And unfortunately, to keep critical funding flowing into your classrooms, you must continue to attract new students to increase enrollment.
This means you need to market (or promote, if you like that word better) your school. Now, you can't market your school only at certain times of the year. This should occur continuously — 12 months a year, all four seasons.
When you have an identifiable brand, you're ready to market your school and attract your target audience. There's much to say on this topic (so much so that we at SchoolMint have a whole category on our blog dedicated to enrollment marketing), but I'll start with one of the most important: your school website!
Your website must tell the story of your school and encourage parents to take the next step in enrollment.
Take a look at this enrollment-focused website from SchoolMint Engage client École Saint-Landry Elementary, where, as you scroll, the page tells you a highly effective story about the school as well as answers why a parent should enroll with them:

4. Is Our Brand Consistent?
Brand consistency should be a primary goal for schools when it comes to branding. Your messaging, vision, logo, school colors, mottos, and more should be consistent every time you use them. This adds a level of professionalism to your brand and also assures people you're the same organization each time they see your branding.
Unfortunately, sometimes schools use outdated images, different colors, multiple logos, or varying slogans or taglines.
Think about your marketing materials: your website, brochures, social media ads, direct mail pieces, and so on. Do they look consistent? Does it look like your school has a unified brand?
Encountering mismatched branding undermines your school's professionalism and can also confuse families.
For example, if your website, Facebook page, and print brochures all use different logos, colors, and messaging, that can confuse families and make them wonder if they're even looking at the same school.
5. Why Do Families Love Our School?
There's no better promoter of your school than happy students and their equally enthusiastic parents — so use them in your marketing efforts as much as possible!
Consider using social media to show students and teachers in action in the classroom, and let them tell your story. Also, consider using video to showcase what you have to offer.
For example, Episcopal School of Acadiana features videos on their website's homepage but also hosts a video series where you can "Be a fly on the wall in ESA classrooms . . . Hear about the innovative ways ESA teachers engage students in hands-on projects, help them develop the habits of scholarship, and encourage them to become independent thinkers who take responsibility for their own learning and success."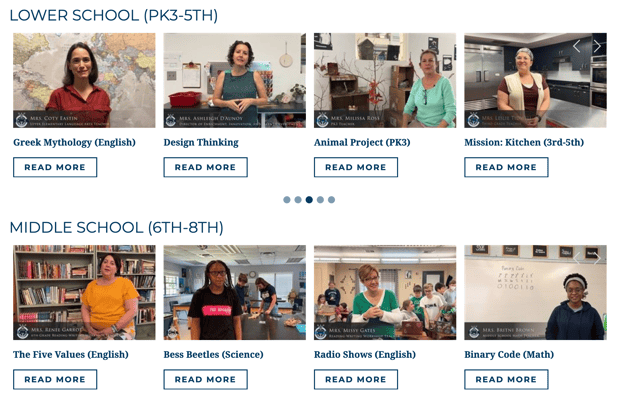 Show off what's compelling about your school: your beautiful campus, your exciting clubs and extracurriculars, your dedicated teachers, and plenty of engaged students.
6. Are We Building a School Community?
Parents today are arguably more involved in their children's education than ever before — but this goes beyond the standard parent–teacher conference or occasional volunteer opportunity.
Think about ways you can more regularly invite them in to foster a feeling of community. Host events such as art exhibits, spelling bees, concerts, parent nights, silent auctions, science fairs, guest speakers, and so on throughout the school year and during summer — anything to get them involved and to hit on a variety of interests.
Hosting these events at various dates and times will also help you cast a wider net for parents who can't usually attend but would like to and can do so only at unusual times. Your goal is to get as many parents as possible to engage with your school beyond just pulling up to drop off and pick up their child.
By cultivating a community of highly engaged families, you'll do more to create a positive brand for your school and spread good word-of-mouth testimonials throughout your region than you could ever hope to do on your own.
7. "What About My Child?"
You already know that each child who enters your school is unique. And with a diverse student body, you must be able to accommodate children with special needs. Prospective families should know what supports and services you offer as well as that you do those things well.
When a parent who's interested in your school asks, "How can you help my child with [disability, learning disorder, emotional need, etc.]?" you should be ready to answer. Consider writing down common questions not only for personal reference but also for providing as a handout.
Here are some questions to get you started:
How are you supporting children with exceptionalities?
How do you support children with learning disabilities, ADHD, or social–emotional problems?
Do you have support personnel in place to handle children who require special education services?
When a parent knows their child's needs are being met, they will happily endorse your school to other families in similar situations. You can count on a significant number of them to participate in local (or online) support groups as well.
And they will certainly discuss your school and how you're supporting their child.
8. Why Should Families Choose Our School?
With a long list of schools parents can choose from, this is perhaps the most important question to ask yourself and the key aspect you will build your school brand around.
Focus on the best aspects of what you have to offer. Is it your championship sports teams? Is it your high-caliber academics? Is it your pedigree of successful alumni? Is it the programs you offer that no one else in town does?
Or…is it the fact your school is free to attend and/or located conveniently within walking distance of local neighborhoods?
Your school 100% has something worthy of answering the all-important why. If it's not readily apparent, do some thinking and perhaps even solicit opinions from your school community about why they chose you.
Then paint this information front and center on your website, across your social media, in your print marketing materials, and during your school tour.
9. What Are We Striving Toward?
Your school's vision matters to parents. Share that vision with them.
Chances are, if it matters to you and parents can see your passion, they'll jump on board with your vision and help you reach your goals for your students and school at large.
Think through these questions:
How do you hope to continue to grow as a school?
What innovative programs do you want to implement?
What do you want students to accomplish?
How will you benefit the community in the years to come?
10. How Will You Communicate Your Brand?
So you've answered all the previous questions and have a strong foundation for your school's brand. How are you going to communicate that out?
I mentioned earlier that your school website is a key place for communicating your school brand. Social media is another place.
Today, social media is a must to reach would-be students and their parents. Having a strong social media presence as well as advertising on sites like Facebook and Instagram is necessary to compete with other schools.
SchoolMint can help you do this through our digital advertising service, where we'll create a custom social media ad campaign for your school. With this service, you'll work with our advertising experts to communicate your school's story and attract new families through high-performing ads.
Ready to learn how many families we can help you reach through ads?

Let's talk.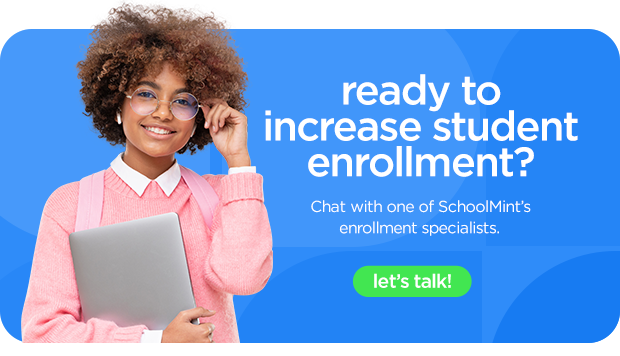 No Comments Yet
Let us know what you think