Acing School Choice Fairs: 6 Proven Ways to Make Your School Booth a Success
6 min read
Oct 26, 2023 8:00:00 AM
Ready to rock your next school choice fair? Do these six things to make your booth a success!
School choice fairs are a fantastic opportunity for school marketers and recruiters to connect with prospective students and their families. As parental desire for school choice becomes the new normal, these fairs are often the first step in making sure that school-shopping parents know you exist.
But it's not just as simple as getting a branded table cloth and showing up. Making the most of these events requires careful planning and execution.
As a former Director of Recruitment at a school in a highly competitive city, I've tried just about everything to increase effectiveness and prospective family experiences at these types of events. And in this post, I'll share my own proven school choice fair strategies.
Here are six strategies to help you increase booth traffic and make the most of your student recruitment fair!
1. Have an Engaging Booth Display
First impressions really do matter! But don't worry — you don't need a lot of money or fancy designs to make a great first impression.
You'll definitely want a branded tablecloth, and if you've got the budget for it, a popup banner or flag are really great for making your booth easy to spot.
Some other low-budget, high-impact options are to use document frames (the plastic, acrylic ones) to display flyers, brochures, or even just photo collages of kids at your school.
You can even bring some student projects with you as an example of what parents can expect their kids to do while at your school.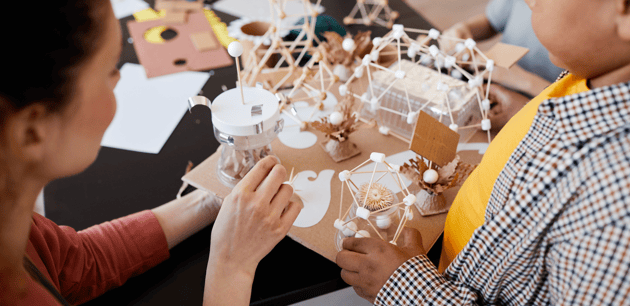 2. Have Interactive Activities
The biggest thing I've learned after attending countless school fairs and booth events — you need a hook.
You'll want an engaging, on-brand activity or exciting giveaway that makes kids (and parents) excited to stop at your booth, even if they weren't planning on chatting with you already.
As a STEM-school recruiter, I often brought sphero robots and an old tablet, and I had kids race them through an obstacle course. For a smaller expected crowd, I would bring our VR headset and lead "tours" of the International Space Station.
These activities gave me an opportunity to engage authentically with students and gave me the opportunity to talk to the parents while their kids were occupied and engaged with the activity. Interactive experiences not only attract visitors but also leave a lasting impression.
If you're an art school, bring some of your best student artists and set up a face painting studio.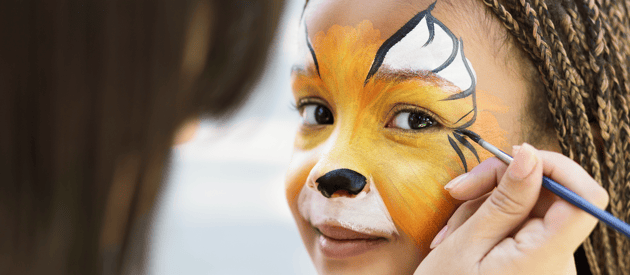 If you're a health sciences magnet program, have students learn how to take vitals in your pop-up "clinic." You've got a stellar music program? Great! Bring along some easy-to-transport instruments and have an "instrument petting zoo!"
Think about what makes your school special and how you can best capture that in a five-minute activity that will impress families and make them WANT to learn more.
Hint: If you can't think of anything, ask your teachers! They are experts on what activities kids like to do!
3. Be Friendly
This seems like a no-brainer, but don't forget to be approachable!
Unfortunately, I've seen a LOT of school events where the person at the booth is sitting down, on their phone, or obviously uninterested in speaking with anyone. If you look busy or annoyed, parents won't feel comfortable coming up to you and asking questions.
The best way to draw people in is to be friendly and inviting. And the best way to do this is to stand (if you can) in front of your booth and chat with people as they walk by. It can feel awkward at first, but once you get your "opening line" down, it's all uphill from there!
Pro tip: I always planned out a few "greeting scripts" that felt right to me ahead of time so I didn't feel awkward in the moment. I trialed and errored my way to "Hey there! We've got *insert your activity* here. Would you like to check it out?" It almost always worked and didn't feel too salesy.
4. Give Them Stuff
This seems silly — but people really do like free stuff.
Now don't go and blow your whole budget on expensive fidget spinners and logoed stress balls, but do consider having something to hand out.
It can be as simple as candy or pens, but having something to give away makes people more likely to stop at your booth and listen to your spiel for at least a minute or two! There's a reason everyone does this at trade shows: it works.
Some things I've used in the past that worked well without breaking the bank are:
Crayons and school-themed coloring pages I created myself (thank you, Canva!)
Candy
Popsicles (don't forget the ice and cooler)
T-shirts
Hand sanitizer
Pens
Stickers
The "value" of the handout isn't necessarily the point — it's the draw of "free stuff" that gets people to chat with you.
Not sure what to hand out? Give them something that won't end up in a junk drawer.
A good idea is to think about something that will be a visible reminder of your school and that they'll see regularly; a magnet on the fridge, a calendar, or a coffee cup are all things people use and see!
5. Tell People Where You'll Be
Leverage the power of social media before, during, and after the event. You should absolutely create a Facebook event and invite people in your community to attend your booth specifically.
Here is an example of a school choice fair ad from Saint Paul Public Schools in Minnesota: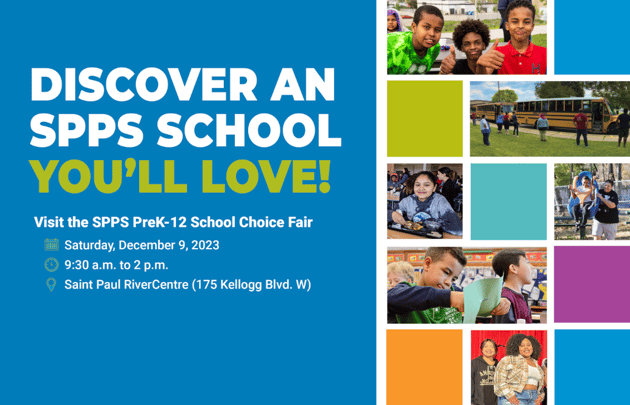 However, don't rely on the district or the event creator to market for you!
Create some buzz by sharing teaser content leading up to the fair, live-share or post updates during the event, and follow up with attendees afterward.
Want to do a little extra credit? Encourage attendees to share their experiences on social media as well.
6. Follow-Up and Feedback
After the student recruitment fair, promptly follow up with interested families!
Following up is a critical step that almost NO ONE does at school choice events. And if you're thinking "That seems like a lot of work," it doesn't have to be!
I would set up a QR code in a little frame on my table and have interested parents scan it to get information sent to them. It led to a Google form where they put in their name and contact information. After the event, I had a whole list of interested families I could easily contact.
If you REALLY want to make it easy, MailChimp, Constant Contact, and HubSpot all have inexpensive plans where you can collect parent information with one of their forms, and it can send emails for you automatically — so if time is a concern (which it always seems to be in the world of education marketing), consider automating where you can!
You don't need to be a techie to do this. You can always go old school and have a paper sign-in sheet. But no matter how you do it, you absolutely MUST gather contact information and follow up.
The days of the responsibility of the parent following up with you are over. You have to be the one that encourages them to enroll — because if you don't, another school will.
---
By implementing these school choice fair strategies, you can increase booth traffic, enhance your recruiting success, and make the most of your school choice fair opportunities.
Remember, it's not just about attracting visitors but also about building lasting relationships with prospective students and families — and the best way to do that is through meaningful, authentic connection.
So get out there and meet some families!
Take Your Student Recruitment Strategy
Wondering what the prospective parent experience is like? Can't figure out why enrollment is down? Your friendly enrollment consultants at SchoolMint are here to help!
We've got your back with a variety of enrollment marketing services — everything from secret shoppers of your school tour to professional development and training.
Set up a free consultation with one of our experts, and we can help you come up with a plan for creating a student recruitment strategy that'll help you compete in the modern school choice environment!