Universal School Vouchers: How Can Public School Districts Compete?
11 min read
Mar 2, 2023 8:00:00 AM
With universal school choice and voucher programs becoming law in more states, how can public school districts respond to this growing reality?
With the passage of universal school vouchers in several states, school choice has once again gained national attention — with heated, passionate opinions on either side.
Take the recent example of Iowa.
On January 24, 2023, Governor Kim Reynolds signed the Students First Act into law. Now families in Iowa can put up to $7,598 in state funding into an "education savings account." This money can then be applied to private school tuition.
The passage of this legislation is not without controversy — as you are almost certainly above and beyond well aware of:
Proponents claim that school vouchers give parents the ability to choose the best school for their child and, in this case, that Iowa is "funding students instead of a system."

Opponents counter that vouchers divert funding away from public schools, which worsens outcomes for families who can't finance the gap between the voucher and the private school's tuition (among many other points, but for the sake of brevity, I won't dive into the full debate).
Iowa isn't alone. In fact, Arizona set the stage for universal voucher programs last July. Utah has since passed their own school choice bill. And Florida is likely to be next.
I'm not here to weigh in on either side. Rather, I'm writing this article to share advice on what public school districts can do to contend with universal school choice bills in their states.
Note: Even if your state doesn't seem to be moving in a more choice-driven direction, the advice in this article is still relevant to all public schools, particularly those experiencing declining student enrollment.
Table of Contents
1. Prioritize Increasing Student Enrollment in Your District
2. Create an Enrollment Marketing Plan to Attract Students and Families
3. Improve Accessibility to Choice in Your District
4. Tell Your Schools' Story More Effectively Than Your Competition
5. Track Which Schools Families Are Most Interested In
6. Clearly Communicate the Programs in Your District's Schools
7. Make the Enrollment Process as Easy as Possible
8. Focus on Student Retention and Parent Delight
---
1. Prioritize Increasing Student Enrollment in Your District
While improving student experiences, classroom engagement, and academic performance are key goals for any district, student enrollment should also be on the priority list.
Before you can move forward with any public school enrollment strategy, you need to designate a point person — a person who will be responsible for increasing enrollment in your district overall.
In higher education, this responsibility rests with each university's chief enrollment officer.
Forward-thinking districts are starting to adopt this role as well as they recognize that amid today's increasing school choice, shifting demographics, and lower birth rates, enrollment is too important to be treated as an afterthought — or to be delegated to a committee or person whose qualifications lie elsewhere.
To quote SchoolMint Chief Enrollment Officer Nick LeRoy on this point, "If you lost your Spanish teacher for a year, you wouldn't say, 'Hey, everybody. You all support this Spanish class.' Or 'Mrs. Principal, in addition to all of your responsibilities, can you take on teaching sixth-grade Spanish as well?'"
Make increasing district enrollment a priority, and you'll reap the benefits if (or when) universal school choice legislation comes to your state.
2. Create an Enrollment Marketing Plan to Attract Students and Families
Eek — marketing. And for public schools? Bear with me.
With the passing of the aforementioned universal choice laws in states like Arizona, Iowa, Utah, and likely Florida soon, districts will face more pressure than ever to "compete" with private schools.
You need to create a school marketing plan that will outline what your district has to offer and showcase what makes each of your schools unique. Further, this plan should also include how you plan to boost awareness of your district's schools — that is, what specific actions will you take?
It's a mistake to assume parents in your community know about all of their options. It's not a good thing to be the "best kept secret in town."
Local private schools are already marketing themselves. Well, amid universal school vouchers, now's the time to join them!

3. Improve Accessibility to Choice in Your District
To make sure parents can fully participate in school choice in your district, it's also important to pay special attention to your communications and outreach so that families are familiar with the options available to their children.
Some districts offer a series of school fairs and expos to give families a chance to meet with school administrators and get their questions answered in person. Others establish customer service hotlines where parents can get information and timely advice about researching and applying to schools.
Encouraging school choice in your district is about more than simply providing information, however.
Transportation is also a critical aspect of the school choice process, which raises equity concerns for families in low-income households, who may lack access to reliable transportation:
According to a

2014 survey

from the Center on Reinventing Public Education (CRPE), 32% of Cleveland parents reported experiencing difficulty finding transportation for their child to and from school.

While 2022–2023 data is lacking, research from a few years ago indicates transportation options haven't caught up with the demand: according

to a report

from the Brookings Institution, just 10% of districts provide transportation for students to

any school within the district.
As the report notes, that places "severe practical constraints on the exercise of school choice for families in which all the adults hold down jobs with nine-to-five work days or do not have a car."
To allow families to truly exercise school choice, districts will have to support transportation and other accommodations for their community.
This also makes a great differentiator for your schools, which leads me to my fourth piece of advice…
4. Tell Your Schools' Story More Effectively Than Your Competition
While perception isn't reality, it's often all that matters when a prospective family is considering to enroll (or not) in your schools.
Influencing parents' perception of your public schools is the key to competing with private schools in this rapidly expanding environment of school choice.
You can change how people discuss and feel about your school by telling an effective story. Simply put, every school has a story: the thing that makes them stand out and answers the question of why a parent would want to choose School A over Schools B, C, and D.
Also? Don't underestimate the power of promoting the fact your schools are free to attend!
Using the example from Iowa, Iowa's voucher program will provide $7,598 in the education savings account. If a private school costs, say, $12,000 annually, a family then needs to come up with $4,400. That's not pocket change for the overwhelming majority of families.
This is where telling your story is important.
Continuing on our previous example, for those parents, you need to make it clear that not only are your schools free to attend — they also offer the same great (if not better) education.
Rather than trying to compete with private schools on matters in which your school can't compete, highlight what you DO do better. Think through what makes your schools and district unique:
Is it the proximity to families, especially those in areas with limited transportation options? Geographic proximity is a massively influential factor into family enrollment decisions.
Is it the abundance of resources you can offer children struggling with disabilities or learning disorders? Parents of children with exceptionalities can often feel unwanted, unsupported, and excluded from other schools.
Is it your breadth of extracurriculars and programs? Boast about that new gym. Boast about your sports programs, clubs, and AP classes. Share them loudly and proudly.
Is it that your school produced 10 Nobel Prize winners, two famous actresses, or various politicians from your state? These examples may be outlandish, but you certainly have outstanding alumni. Track them down and get testimonials from them and their proud parents. Their stories will speak to the quality of their education with your public schools.
Schools in your district have something worth bragging about. You just have to make sure you're making it clear what that "something" is: on your website, across your social media pages, at the local enrollment fair, in your online reviews, in direct mailers, everywhere.
P.S. Adding videos to your enrollment strategy can be super helpful here.
5. Track Which Schools Families Are Most Interested In
It is essential for school districts to have the ability to track which schools families are most interested in. This data can be used to help inform decision-making and resource allocation so your resources can go where they are needed most.
Additionally, an applicant tracking system can lighten your workload and collect applicant data for you to measure your performance. From schools overall to individual grades, you can see (and compare to previous years) how your applications ebb and flow.
For example:
Are applications decreasing or flooding in for kindergarten?

Did you have fewer sixth-grade applicants this year than last year?

How many students are you losing in transition years?
An applicant tracking system can answer all of those questions for you and more. These answers, in turn, can lead you to take a deeper look at certain campuses or adjust your enrollment marketing strategy.
Some schools customize commercial tools (like Salesforce) to fit their applicant-tracking needs, but those tools can be expensive, time-consuming, and full of more bells and whistles than any school could possibly need.
Instead, try a platform made just for schools in K-12. A platform like SchoolMint Connect can help you track and manage inquiries, follow up with parents after events, manage school tours, and more.
6. Clearly Communicate the Programs in Your District's Schools
Schools across a district can vary dramatically in their academic offerings, pedagogy, activities, facilities, student supports, outcomes, and more. Yet these differences are often far from clear to families viewing them from the outside.
Unfortunately, many schools are tight on resources when it comes to communicating their programs to the communities they serve. In turn, families may need to visit numerous websites or call various school offices to get answers to all of their questions.
Help make the decision process easier for them by clearly communicating your district's schools, who they serve, and what programs they offer.
To do this, you can implement a multi-pronged approach:
Offer a guidebook to all the schools in your district: programs, services (e.g., before- and after-care availability), etc. that each campus offers.

Host school choice fairs designed to help parents understand their options and get to engage with your schools.

Host information sessions (both in-person and virtual — and be sure to make recordings available) that help clarify the process for parents exercising school choice in your district.
A school search portal like SchoolFinder allows you to improve families' access to school choice in your district — which is a huge priority for many of our partners.
SchoolFinder makes it easy for you to access parents exploring their options and to provide them with what they need: a search component along with individual school profiles that present information in a way that's clearer and more organized than many school websites are.
Think of SchoolFinder as a résumé for the schools in your district. SchoolFinder provides a high-level profile that gives quick, clear insight into what the school is about while eliminating the legwork for busy parents.
7. Make Enrollment as Easy as Possible
Without access to information about available public schools and how they can apply, parents aren't truly able to exercise school choice in districts.
And finding this information can be extremely time consuming and complicated as parents have to weigh numerous factors and hunt down information that isn't always easily found:
Available schools

Areas of focus at each school

Where to apply for enrollment

Application requirements

Enrollment policies

Deadlines

Post-enrollment next steps
Often, there's no single place or resource where this information can be found. In fact, it can require repeated phone calls and even multiple visits to answer parents' questions.
In some cases, parents must appear in person at a school or district office to enroll their child. While this reality is burdensome for most parents, it poses an even more critical challenge to low-income parents who often risk losing their jobs if they take time off.
The school choice process can be seen as unfair, opaque, and inefficient.
Without a platform that eases the application process for parents, applying to multiple schools within a district requires families to keep track of a pile of different paper-based forms — each one outlining a different process, policy, and deadline — or having to take notes, bookmark various websites, create a spreadsheet to compare options, and more.
This complex, all-too-real scenario is where an online enrollment platform like SchoolMint Enroll can be invaluable to your district and give you a competitive edge over private schools.
Imagine: a parent can use SchoolFinder to see every school in your district at once and "shop" for what fits their needs best. Then, once they've narrowed their selection to a handful of schools, they can apply to all of them through SchoolMint Enroll — in only two minutes.
8. Focus on Student Retention and Parent Delight
As my colleague Nick LeRoy likes to say, "You can't fill a leaky bucket."
What good is it to have students flowing into your schools if they're only then flowing out to a different school?
You can tell a great story, implement the best practices for marketing your schools, and make enrollment as easy as possible…but if that up-front reality doesn't match the actual experience of attending your schools, parents won't be shy about end-of-year or even mid-year transfers.
Student retention and family engagement are critical to increasing enrollment in public schools.
It's essential for a school to focus not only on their curriculum and teaching methods but also to ensure they go above and beyond in providing parents with exceptional support, communication, and services.
From giving parents access to important resources like school event schedules to extending support and warm welcomes, making an effort to engage parents on an ongoing basis strengthens connections between home and school.
But family engagement is only one piece of student retention:
What's actually happening in your classrooms? Is bullying rampant? Do students struggle to focus on their lessons due to disruption from peers?

How's attendance? Are you experiencing high levels of tardiness and chronic absenteeism? You can learn more about improving attendance in our guide

Curbing Chronic Absenteeism.

Do struggling students feel disconnected from their teachers?

In fact, do you have high teacher attrition and have parents frustrated that their kid "always has a new teacher"?
By contrast, do you have highly effective teachers with great classroom management skills? Are students engaged with learning? Do you have a strategic plan for improving teacher retention? Do you ensure each struggling student has a relatable mentor they can lean on for support?
When students have the backing of their families and trusted adults at school, they are more likely to persevere through challenges and remain engaged in the learning process.
Districts that want lasting enrollment success must remember the importance of student retention — and all of the incredible yet hard work that comes with achieving that success.
You can learn more about SchoolMint's various solutions for supporting teacher growth, behavior management, and educator burnout — three areas that, together, will affect your student and teacher retention efforts. And, subsequently, your enrollment sustainability.
---
With school choice and vouchers becoming more common, districts have a great opportunity to help families access the resources they need to make important education decisions that will impact their children's futures.
By implementing some new strategies and taking a critical look at what you're doing currently, you'll provide families with better access to and knowledge about your district's school choice initiatives — ensuring that more children have the opportunity to enroll in the school that's right for them.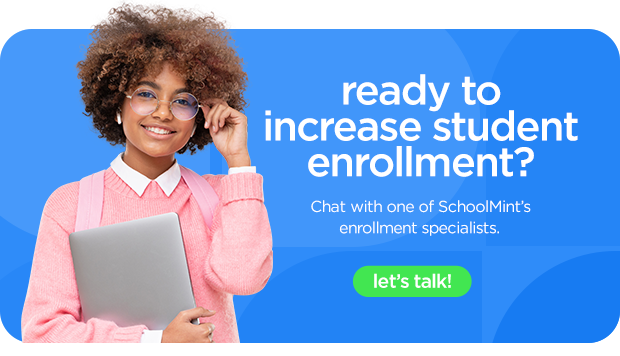 No Comments Yet
Let us know what you think