The Art (and Science) of the Follow Up
6 min read
Nov 17, 2022 8:00:00 AM
How do you turn potential recruits into eager, enrolled students? By having an effective school follow-up plan in place.
As I write this, schools are in the thick of enrollment season with administrators doing everything they can to attract prospective parents.
They're making sure their websites accurately reflect customer personas. They're poring over the number of visitors to their websites and crafting ads to drive more quality traffic. They are ensuring their tour process is strong with a well-scripted message.
If it all goes according to plan, this work will culminate in big crowds for open houses and information nights full of parents excited about their schools.
And then, as the parents file out to the parking lot and head home, the final step is to…wave goodbye, cross your fingers, and hope these families will enroll?
Of course not.
Getting parents in the door is only half the battle. The job can't be finished correctly without an effective follow-up campaign to turn potential recruits into enrolled students.
In my experience attending many, many school open houses and participating in school tours, it still shocks me how little follow up occurs once the parent leaves. I can count on one hand the number of schools who did an effective follow-up cadence after a tour or an open house.
To make sure that your school is one of the few who does it right, let's take a look at what an effective school follow-up campaign looks like.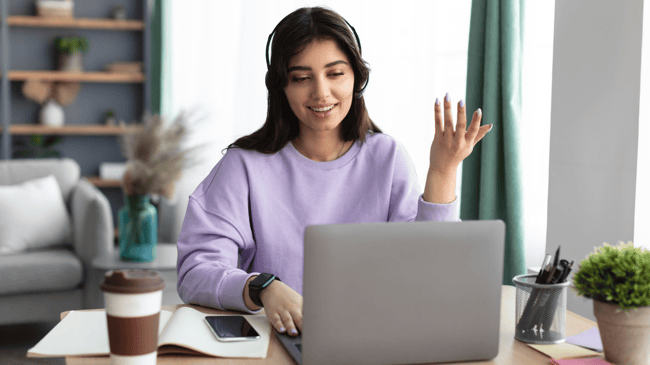 Ensure That You CAN Follow Up
The most critical thing you need to get from any prospective parent is their correct contact information. If you don't know who someone is, you can't follow up with them.
Make sure that every person who attends your school tour or open house provides you with their name, address, email, and phone number.
And don't just have them handwrite it. Procure an iPad or a ChromeBook with a Google Form, and have them type in their contact information.
I estimate you probably lose about 5–10% of parents' names just because you can't read their handwriting! (If you're appealing to physicians, that number is probably higher.)
Understand the Parent's Goals and the Student's Interests
The best tour I experienced started with the school representative sitting me down in his office and asking a simple question: "Nick, before I take you on a tour of the school and tell you about us, I would love to hear about your boys. What are they like, and what do you want them to achieve while at our school?"
This personalized approach was great.
And, unfortunately, it was a total outlier compared to other schools I have visited over the years.
Here's the thing: Parents LOVE to talk about their kids.
By asking this simple question — "What is your kid like, and what are they interested in?" — you gain a lot of clues as to how to tailor your message so that it resonates with a new parent's needs.
For example:
If the child is interested in sports, you know you need to spend more time talking about your school's athletics.
If the child is a straight-A student with aspirations of Harvard, talk about your stellar academics and college acceptance rates.
Either way, by asking this question, you gain valuable information that allows the conversation on the tour and afterward to be about what you can offer their child versus you giving the same generic speech that you have delivered multiple times.
The other benefit of knowing more about the child? You can use an assumptive tone in your descriptions.
Doing this requires a little bit of practice so a
s to not come across as phony, but soon you'll be able to say things like, "This is where Mary will be working on her robot in our STEM classes" or "When Nate is playing lacrosse, this is the field that he will use."

Using language like this — and especially using their child's name — will go a long way in the parent being able to visualize their child at your school. And that is what the tour is all about!
Use a Prospect Database
I am a big proponent of using a customer relationship management (CRM) platform to track prospects. A simple Excel spreadsheet will work, but there are some great software packages out there that will make your life a lot easier. HubSpot is a good CRM, and their free version may be all you need.
Additionally, we offer SchoolMint Connect, which — unlike all other CRM platforms — was built just for school enrollment professionals in K-12 education.
In your CRM, you can capture all of a family's contact information but, more importantly, you can assign them to certain groups for a customized follow up. For example, you can sort families into interest-based groups.
Knowing what they are interested in allows you to personalize your follow up to a degree that will truly set you apart.
One note on CRMs: there are many, like Salesforce, that offer non-profits a free account.
But a word of warning: some of these are rather difficult to use and might be a bit of overkill for what you are trying to accomplish. The rule of thumb is to get a tool that you know how to use rather than one that has the bells and whistles you don't need.
This is where SchoolMint Connect really shines. If you're interested in learning more, this video offers some good highlights of the platform:
Establish Your Follow-Up Routine — and Stick to It!
You have a parent's contact information. You know their goals for their children and what programs they're interested in. And you have everything organized in a nifty database.
Now it is time to act.
Since every school is different, there is no one-size-fits-all approach for this next step. However, depending on your school and your resources, here are some examples you can learn from to help tailor your strategy.
The Phone Follow-Up Strategy
Back when I ran Bright Minds Marketing, I had a Catholic school customer I worked with to design an easy phone cadence for every prospective parent who visited the school.
It worked like this:
Two days after a visit, parents received a phone call from the teacher of the grade level their child was entering. The teacher offered to answer any questions and just provided a warm touch.
Two days later, parents received a call from a

parent volunteer

who offered to give them the perspective of a parent at the school and why they should enroll.
Two days after that, parents received a call from the principal offering to answer any questions and attempting to close the deal (i.e., earn that parent's enrollment).
This straightforward, organized approach gave the school the opportunity to reach out to parents multiple times from multiple perspectives — without overwhelming the parents with too much unnecessary information.
For that client, this strategy resulted in four additional students enrolling that year. And the total cost for that program? Zero dollars.
The School CRM Follow-Up Strategy
Here's a different story, this one from one of my independent school clients, who used a CRM platform:
Once a parent left their campus, the admissions person would send them a pre-written email to thank them for coming, along with a link to the school's application form.
Then, depending on what the parent expressed interest in, we built a couple of different workstreams to tailor any follow-up communication to that parent's particular interests.
For the parent interested in athletics, we set up a stream of three emails over the next two weeks that talk about the school's sports program.
We also built streams for students interested in service-learning and academics — as well as a general stream for students whose interests they've yet to identify.
The great thing about their approach? It was all automated once they selected the persona of the student in the CRM — meaning that once you select the "track" you are placing the student into, you just press the button, and the follow up happens automatically.
The Sweet, Simple Handwritten Note Follow-Up Strategy
And lastly, one of my charter school clients simply writes handwritten thank-you notes to the parents for coming, telling them that they would love to have their child at the school.
Simple, but sincere. Easy, but effective.
---
Whether you choose to do your follow-ups by phone, by email, by hand, or by a combination of all three, make sure it is part of your normal recruitment routine.
Hoping that parents will call you after they walk off your campus is fine, but calling them is even better.
Sometimes, it's the little things that help you enroll more students.
No Comments Yet
Let us know what you think