4 Tips for Getting New Families Excited About Enrollment Lottery Results
7 min read
Jan 5, 2023 8:00:00 AM
How can you excite new families about enrollment lottery results and keep them excited enough to enroll with you?
If you, like me, are part of any local parenting group on social media (shout-out to #MidtownMoms), you're probably seeing posts about school choices for the upcoming year. And that's just the start of it.
If you're in an area with heavy school choice and lotteries, once enrollment lottery results are announced, it's all you'll see on your feed for weeks!
While some parents feel like they just won the lottery, others are undoubtedly frustrated and searching for reassurance that they might have a chance of getting off the waitlist and into their preferred school.
This is an incredibly important time for families — and it's also an important time for schools, too.
However, too often, many schools believe that a lottery match equals a job well done. Pat yourself on the back, nothing more to see here, pack up your enrollment flyers, take a well-earned break, and…
As much as I hate to be the bearer of bad news, you're not across the finish line just yet.
You need to make sure your new families don't feel like they "got a spot" at your school. You need to make them feel like they WON the enrollment lottery jackpot.
How can you do that? Easy — just take my advice below!
Table of Contents
1. Host a New Family Party
2. Send New Families a #Sign
3. Visit Accepted Students at Their School
4. Communicate Extra with Families
5. Bonus Tip
6. Conclusion
1. Host a New Family Party
Do you want families to get excited about your school? What better way than to throw a new family welcome party!
Whether you host it on-site at your school, rent out a bowling alley, or invite everyone to join you for a pizza dinner, you can make sure all your new families have a way to share in the excitement in person.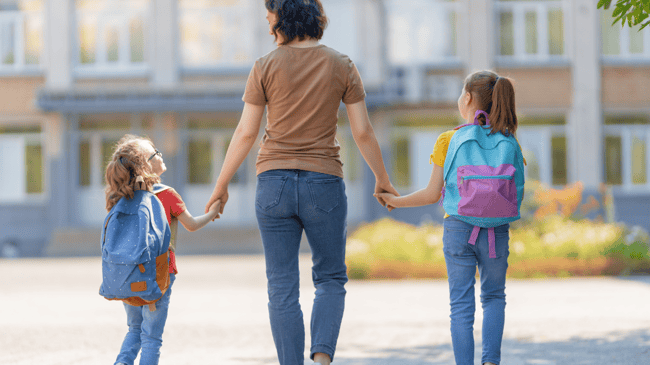 You'll want to plan this a few weeks out from your lottery results announcement so that everyone can clear their calendars, but make sure it's close enough so the excitement is still fresh.
Encourage your staff and a handful of existing families to attend to start creating relationships with your new families — as well as to answer any questions your new parents might have!
A celebration can accomplish a few things for your recruitment efforts. It can make families feel celebrated, wanted, and welcomed at your school, and it also gives you a valuable touchpoint for families who may be on the fence.
If a family had you as their second choice, a personal touchpoint and fun event might just make them drop their spot on their first choice's waitlist.
2. Send New Families a #Sign
I know this is a little new school, but it works!
Right after you announce your lottery results, mail your newly matched students an official welcome packet complete with a physical social media sign.
Encourage them to take a photo of themselves with the sign and to then tag you on social media or use your school's creative enrollment lottery hashtag.
Now…you might be thinking this seems a little cheesy. And you're right. It is.
But it also works.
There's a reason big universities have such success with this marketing tactic. If you don't believe me, check out #OnlyPurdue, #IGotIntoUSC, or #ChirpChirp for any fellow Ball State graduates out there!
Also, you don't need to have or be a professional social media manager or graphic designer to get started with a social media enrollment-acceptance campaign!
If you're short on design skills (or just don't have the time), use one of our simple templates, add your school name and logo, and you're done!
For additional help, check out my previous article, Free Tools for Your School's Marketing and Communications.
3. Visit Accepted Students at Their School
A great way to ensure that your matched students enroll and attend your school is to make sure they feel excited about attending your school from day one.
To do this, make Match Day feel like a celebration!
When you announce your lottery results, head over to your feeder schools (the schools that are sending you a lot of their "terminal grade" students). Bring some cupcakes, balloons, and a school t-shirt.
Drop off your goodie bags at the front office, visit their classrooms, or have them join you for a pizza party in the cafeteria!
Anything you can do to make these soon-to-be-your students feel special and celebrated will go a long way toward ensuring they arrive at your school on the first day.
This helps retain students you've already matched with and also helps generate some buzz among students who maybe aren't as excited about where they are attending next year.
When it comes to school choice, FOMO ("fear of missing out," for all of the non-millennials out there) is a real thing!
Families — and their students — see what you do to welcome your new families. If they aren't being wooed by their first choice, you might be able to convince them to give your school a second look.
While you may not be able to visit their school to deliver an acceptance letter, you can still buy a ton of good will with these special deliveries.
Here is an example from Butler University of how they have their mascot (the adorable bulldog Butler Blue) delivering students their acceptance letters:
This is something that is very easy to replicate with your own mascot and a bit of work by your admissions team.
4. Communicate Extra with Families
When I was a recruitment director, I heard a frequent complaint from families who had been accepted but hadn't yet started: they were confused or uncertain about their next steps.
Often, these new families felt they were receiving poor customer service when they had questions about enrollment or the first day of school.
Families shouldn't have to hunt through 200 emails to find the link to your enrollment next steps. And they shouldn't choose another school just because you never answered the phone or returned an email.
This is especially challenging if they're trying to contact you when you have fewer staff members available, such as during the summer months.
You need to make it simple for families to accept their spot at your school — but more importantly, you need to recognize that a match is not the finish line.
It's, at best, the halfway mark.
You need to stay in touch with families, encourage them to complete the next steps, and be their school cheerleader along the way.
To those of us who grew up with texting and emailing as a default way of communication, I'd encourage you to pick up the phone and call each of your new families at least once to welcome them to the school and answer any questions they might have. I promise the effort is worth it!
Or consider making a page on your website — like www.yourschoolwebsite.org/school101 — that lays out answers to frequently asked questions about getting started at your school.
This will significantly decrease calls to your front office and ensure your first day goes a lot more smoothly because people could answer their questions on their own.
Bonus Tip: Set Lottery Number Targets Using Historical Data
Pro tip from someone who managed the recruitment and enrollment process for a charter network: the number of matched students, the number of registered students, and the number of students who show up on the first day of school will NEVER be the same number.
Over the course of my years in school recruitment, I got VERY good at using data to determine what our lottery Match Day goal should be to get us to our registration goal to then get us to our day-one goal, which would get us to our REAL count day goal.
Remembering all the times I told my high school math teacher I'd never use any of what he was teaching us — I take it back! (Mr. Emerson, if you're reading this, I deserve the "I told you so" I assume is coming my way.)
You can use your historical enrollment data to set a slightly over-ambitious goal knowing that, on average, you'll lose a certain percentage of students in the first days and weeks of the school year.
Back then, I used a really amazing tool to track our data year over year:
I was then able to determine that our number ranged from 10–15%, depending on the school.
For example, if I had 150 spots I wanted filled by count day, I needed 160 students on day one.
This way, you've got some room to lose a few students at the beginning of the year without panicking to backfill them! It makes for an easier start to the year for you, your teachers, and your leadership.
And, even better, it enables you to celebrate the first day of school with excitement instead of anxiety!
Ready to Celebrate?
Match Day, Lottery Results Reveal, Enrollment Day…whatever you call it, is a BIG deal for families and students, so let's treat it with the excitement it deserves!
For you, it might represent hitting or missing an enrollment target. But for your new families, it represents the culmination of one of the most important choices they've made in their child's life.
So when their lottery results reveal your school, make them feel like they actually won the enrollment lottery. Share in — and encourage — their excitement. And celebrate alongside them!
How do you celebrate your incoming students? We'd love to hear your ideas!
---
If you're interested in discussing how SchoolMint can help you engage with families to increase enrollment, get in touch here!
No Comments Yet
Let us know what you think