The rollercoaster life of SchoolMint marketing manager Daniele Frechette — and why she loves her new home in Lafayette, Louisiana!
I hail from Kimberly, Wisconsin, which is the original home of Kimberly-Clark toilet paper and paper products.
Okay, I'm not going to talk about the paper industry, paper products, and how Kimberly itself is the home of the Kimberly High School Papermakers.
The important thing to know here is I'm from Wisconsin — land of cheese and the Green Bay Packers! — and ended up living in Louisiana, SchoolMint's home state, not just once but twice.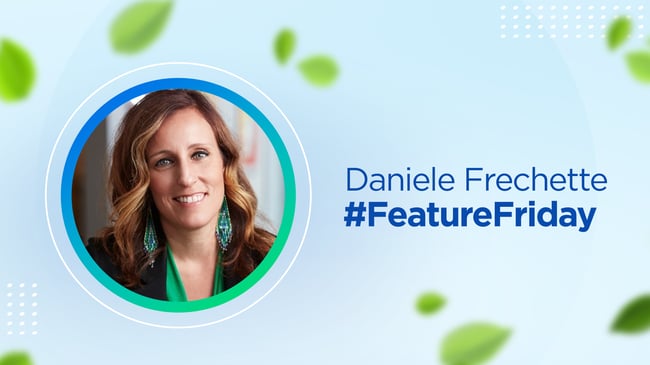 I attended the University of Wisconsin-Green Bay, getting my degree in communications and public relations. While there, I worked as a server and trainer for the local Chili's. My first job after graduation was working as a copywriter for a local retailer.
During this time, Chili's ended up reaching back out to me. They had a manager position open, so I left marketing and returned to the restaurant world. I did that for a few years, eventually deciding I wanted to pivot back into marketing.
That led me to the University of Wisconsin-Green Bay's marketing and communication office, and then later the University of Wisconsin-Oshkosh. Shortly after, I transitioned into Dining Services — mostly because I love food, cooking, and culinary innovation!
After working in higher ed dining at the university for a couple of years, an opportunity appeared down south. And I mean way down south: New Orleans, Louisiana.
Marketing for Higher Ed Dining
Problem: Well, Louisiana isn't anywhere near Wisconsin.
Solution: We sold our house, kissed our daughters and family goodbye, and headed down to the Big Easy!
I came to Dining Services at the University of New Orleans (UNO) as a marketing manager. But I was also responsible for ensuring dining services operations ran smoothly.
So this meant that in addition to handling marketing and managing our social media accounts, I managed the various market locations on campus. I oversaw the ordering, scheduling, and merchandising of these stores.
I also helped coordinate culinary events (like one about ancient grains) and helped make accommodations for students who had special dietary needs. We actually had a whole station that was just food cooked without the top eight food allergens.
Keeping students healthy and making sure their parents could see they were being taken care of was my priority.
Coming to SchoolMint
Unfortunately, shortly after the pandemic started, I left UNO — and New Orleans.
We returned to Wisconsin, this time settling in Manitowoc (a city located right on beautiful Lake Michigan), and I picked up another marketing job. But I really wanted to return to New Orleans, and while searching, I came across a marketing manager job for SchoolMint.
I didn't know much about the company except that it was education related and based out of Louisiana, having offices in two cities there: Lafayette and New Orleans.
Originally, because we loved New Orleans so much, we wanted to move back to New Orleans. But I talked to my husband, telling him, "We've already lived in New Orleans. Let's try Lafayette for a year and just see if we like it."
I applied. I got the job.
And as for which city we chose for the long-term? About six months after (once again) moving from Wisconsin to Louisiana, we bought a house in Lafayette.
Life as a SchoolMint Marketing Manager
Today, I'm the marketing manager for SchoolMint's Positive Classroom solutions, of which there are four:
I'm so passionate about Positive Classroom because it aligns so well with my personality. I seek to understand why people do things and how to help them improve their lives — and that's what our Positive Classroom solutions do!
And also, just to be honest, I'm nosy by nature and like to understand people. And that's why I love working in marketing. Understanding people is the basis of everything we do.
Of SchoolMint's platforms, my favorite is definitely SchoolMint Grow. When you hear people say they love the difference Grow makes with teachers as well as how much time it frees up for them, I think that's so important, especially today, when teachers and administrators have such full plates.
Overall, I've been so happy about coming to SchoolMint.
One of the company's core values — No Jerks, Period — especially resonates with me. I have previous work experiences where I was surrounded by jerks, so it's been really refreshing to see a company put that out there and acknowledge the importance of working in a jerk-free zone.
Outside of SchoolMint
When I'm not strategizing my next marketing campaign, writing emails, or asking my coworkers where we're grabbing lunch, I have a vastly entertaining life with my husband.
I wrangle cats, of which I have three.
First, there's Nadja (yes, named for the vampire in What We Do in the Shadows):
Then I have Beatrix Bebette (no name story here. I just really like it):
And lastly, Baby Wayne Toups (named for…Wayne Toups the Cajun musician), pictured below with Clara the dog:
The interesting story about these three is that I had Nadja first, and then one day I adopted Beatrix. Later that exact same day, I found Baby Wayne in the bumper of a car in a parking lot. So in the span of a few hours, I went from one cat to three.
I also have a dog, Clara, who I walk around the neighborhood all the time. She's stubborn and has a mind of her own. But walking around has allowed me to meet so many incredible community members. There are some elderly ladies, for instance, who live around the block from me. One of them gave me her recipe for fried chicken!
When I'm not entertaining my brood, I do things around the house and hit up estate sales. I love vintage things, especially vintage homes and designs.
When our daughters Mariah and Alex were little, they would often complain that our house was like living in an antique shop. On the weekends, we would go thrifting or to an antique mall and drag the girls along. Often, we would come home with some weird and unique finds that would always find a place on a shelf somewhere in our home.
Additionally, we love attending live music events, and that love has been passed along to our girls. One thing we've really come to love about Louisiana is the caliber of local musicians and the community feeling.
The sense of community is crazy. Everybody knows everybody, and they're all artistic, hilarious, cultural, and creative. There's such a heart to this community, and I didn't expect to love Lafayette so much, especially after having previously lived in New Orleans.
The Menominee Tribe of Wisconsin
I'm of Native descent, specifically coming from the Menominee Tribe of Wisconsin.
The Menominee Reservation is absolutely gorgeous. It's a heavily wooded area in the Northwoods of Wisconsin, featuring plenty of lakes, fishing, and hunting. There's the Wolf River, which runs right through the reservation, and lots of touristy things, like rafting and kayaking.
The Menominee is also the only tribe that's native to Wisconsin — as in the only tribe to originate there and not have been moved there. Most of the state was Menominee land, but later on, the government started moving East Coast tribes out there.
One of those, the Oneida, is the tribe my husband belongs to, although he (just like my dad and other Native family) grew up on the Menominee Reservation. Funnily enough, he actually knew all of them long before I ever knew him.
Reconnecting with My Heritage
My dad moved off the reservation around age 10, so I missed out on many opportunities to connect with my Native family members. My dad didn't talk too much about his heritage due to a variety of reasons, and it was also a generational thing to an extent.
When I met my husband, he helped me learn about my Native culture, my roots, and my family, since he'd known them whereas I really hadn't. My husband had grown up in that world and been immersed in the culture all his life. He filled in a lot of my life, telling me about my relatives, about the stories he'd had with my dad out in the Northwoods.
Our paths were intercrossed, and we didn't even know it for so long.
Interested in Working at SchoolMint?
View our open positions here, or learn more in 10 Reasons You Will Love Working at SchoolMint.
Other Tales from Feature Friday
No Comments Yet
Let us know what you think