6 Ways to Get Students Involved in Your School's Marketing
7 min read
Jul 7, 2022 8:00:00 AM
Learn how to get students engaged with marketing your school.
If you're working in school marketing or recruitment, you know there is never a shortage of engaging content — but having the time to capture it all? That's another story!
There are amazing things happening in your schools, but it can be a challenge to capture and highlight all of it. What you might not know is that you have an amazing, underused resource located right within the school: your students!
Not only do students know everything that's happening before you probably do, they also know what messaging and information is interesting to the exact demographic you're hoping to attract: more students.
Do you have amazing students but aren't quite sure how to get them engaged in your student recruitment efforts? We've got you covered.
Check out our tips below for involving your students in your school marketing and recruitment efforts!
1. Student Journalists
As anyone who has worked in a high school can tell you, students know everything that is going on.
Put their connections to use and encourage them to write for the school newsletter or blog. Students get the opportunity to get a feel for what it's like to be a journalist, and they also get to choose the stories that are relevant to them and their experience, often giving an authentic first-hand account of the student life at your school.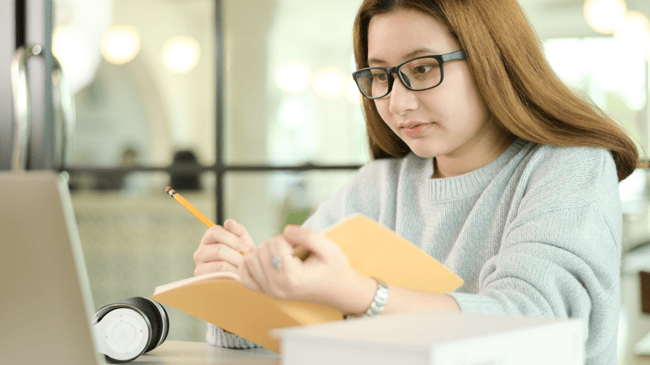 Highlight their work by giving them an official bio on your school's blog, and give them an official "Press Badge" to allow them to attend school events for free and use any available time to get quotes or interview fellow students.
Don't forget to use their work in avenues that reach not only parents but also other students, like the school newsletter or your school's social media.
As students gain more experience, encourage them to take on more responsibility and try higher stakes writing.
Student journalists can — with your expert mentorship — challenge themselves by writing op-eds for local newspapers, school announcements, and even press releases or media advisories for school-related events.
Not only is this great content for your marketing efforts, it's great for students to be able to use for their resumes and college applications!
2. Student Photographers
No matter how hard you try, you simply won't be able to capture every amazing moment that happens in your schools. That's where student photographers come in.
With a little training, students can capture some really memorable moments, and the best part is they'll be authentic, true-to-the-school photos. You may even consider partnering your photographers with a student journalist to make sure you've got great photos to partner with your student-created content!
Not a photographer yourself? Not a problem! You almost certainly have a parent, fellow staff member, or student who knows their way around a camera.

And if not, smartphones can take really amazing photos, no professional photography equipment required.
As students gain experience, consider bringing in a local photographer as a mentor, which can be a great way for students to connect their in-school experience with the real world.
Protip: set up a shared Google Drive where student photographers can upload their favorite school photos. This way, you're never hunting around for great photos for your school's social media, your website, or flyers.
3. School Social Media Posts
No matter how good we think we are at social media, chances are most students are better.
The majority of high school students today don't remember a time before social media was readily available. And it shows! Have your students teach you how to use the latest social media platforms (TikTok, anyone?!) and allow them to create content for your channels.
Obviously, you'll need to use some discretion and approve posts, but you'll be surprised at how much great and creative content a group of engaged students can create.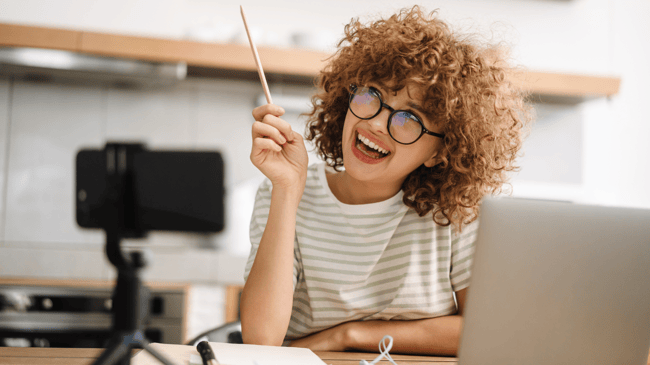 If you have a social media posting software like Hootsuite, you can even set up approval workflows for them so they can submit content directly to you within the software — no extra work required.
From school cheerleaders sharing TikToks to teach some crowd cheers for the upcoming football game to the art club posting a time-lapse video of their mural project, there is a way to engage students in a way that is marketing-focused, authentic, and fun!
Of course, you can involve students in other ways.
Take this example from Hartford Public Schools' Instagram, where they got students involved to record staff-recruitment radio ads:
Image text: "HPS in the studio! Starting today, you might hear our students, staff, and @HartfordSuper on your favorite radio streaming service! They recorded a new ad, encouraging listeners to apply for open positions at Hartford Public Schools. Want to join our team? Visit the link in our bio!"
4. Student Ambassadors
Unsurprisingly, new students are often pretty nervous on their first day of school, especially if they are transferring in during the middle of the school year.
Having assigned student ambassadors who you know will do an excellent job showing your new student around can help the incoming student's nerves and give incoming students more than just the standard school tour.
Ambassadors can share what lunch options are the best in the cafeteria, what clubs are available, and where students hang out before or after school. Having a dedicated student ambassador for your new students can not only ease the nerves on the first day but also provide an additional point of contact for new student questions, easing the burden on school staff.
Student ambassadors should be trained by the school team, and the program should be run by a staff member to ensure that all students have a great experience.
In order to give both your ambassador and your new student some common ground to build a connection, try to collect information about your ambassadors and incoming students to match up students with similar interests.
If you really want to level up your student ambassador program, consider having ambassadors reach out a day or two before your new student's arrival to introduce themselves and to set up a time and place to meet before school starts.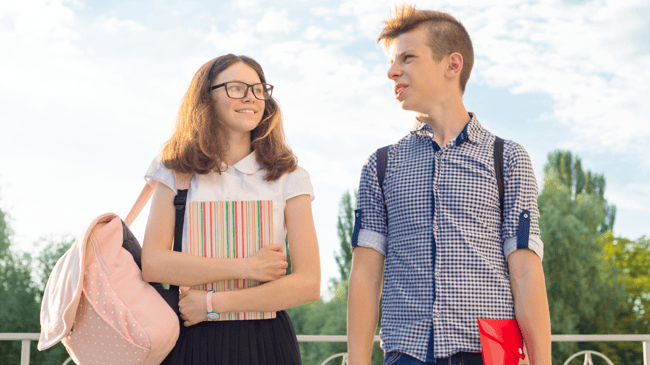 5. Student-Led Tours
Similar to student ambassadors, student tour leaders can be a friendly face for new families. Students often feel more comfortable asking questions to other students, and this can be an easy way to take some of the pressure off.
In addition to prospective student tours, student tour guides can lead tours for important donors, alumni, or even members of the media or local government. While students lead the general walking tour, your admissions staff is free to provide context or answer visitor questions.
In addition to in-person tours, student-led virtual tours are a great way to showcase the student experience!
There are some great examples of "Day in the Life" videos of school students online, ranging from professional style Go-Pro videos to selfie-style tours captured with an iPhone — and they can all work really well!
This minute-long video from Purdue Polytechnic High School showcases a typical day at the school:
To level-up the experience and impact of these tours, consider making them available in the languages found in your community.
6. Events
Wondering who to bring along with you to a recruiting event?
How about a group of students?
Bringing along a few extra hands makes setup and tear-down a breeze and makes it a lot more engaging for your visitors.
An interactive booth is the best way to get families to stop and chat with you, but it can be hard to manage talking to parents and leading an activity at the same time.
That's where your students can come in! Students make great activity leaders at events, particularly those where other students might be in attendance.
Have your robotics team show younger students how to pilot a robot through an obstacle course, or bring your band students to perform and show younger students how to play some of their favorite instruments.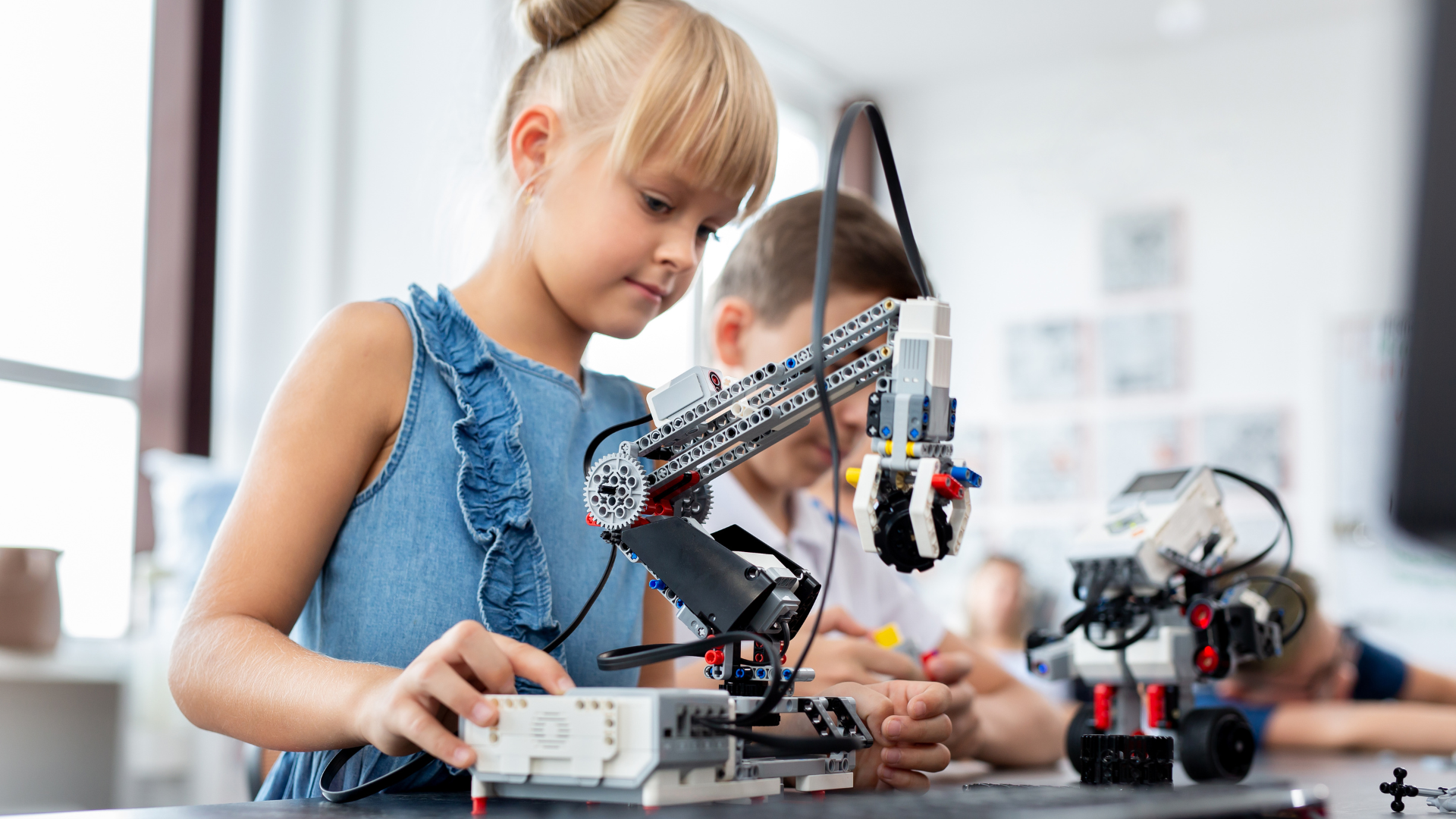 A platform like SchoolMint Connect can help you manage school events, tours, and more. As a software built around the idea of building and managing family relationships, Connect makes it easy to engage with new families and nurture their interest in your school — long after an event has ended.
---
However you choose to involve students in your recruiting and marketing efforts, they'll bring an exciting and unique perspective to your team. Whether it's leveling up your social media account, leading an engaging booth activity, or improving your new student welcome experience.
We can't wait to see what you accomplish together!