4 Ways to Improve Your Teacher Recruitment Strategy
8 min read
Sep 22, 2022 8:00:00 AM
Modernize your teacher recruitment strategy with these four tips!
As schools get back into the swing of things and the newness of the new school year begins to fade, school leaders and teachers would usually expect to be transitioning from the chaos of the first few weeks of school into the familiar routine of Fall.
However, in many districts and schools across the country, you'll see principals filling in as substitute teachers, classrooms that are packed with too many students, and instructional assistants working at triple capacity.
The growing teacher recruitment crisis is impacting schools across the country: roughly 44% of public schools reported teaching vacancies at the start of the school year.
This shortage (and the resulting increase in competition) means you can't hire teachers the way you've always done it — because the game has changed.
It's time to bring teacher hiring into the modern age, and I'm here to help with four ways you can improve your teacher recruitment strategy!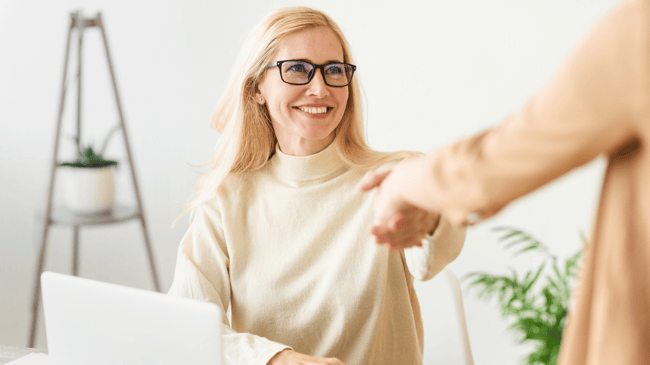 1. Retention, Retention, Retention
There's a common saying In recruitment: you can't fill a leaky bucket.
Just stick with the metaphor for a moment.
Imagine you are trying to fill a bucket riddled with holes. No matter how hard you work, or how much water you pour in, you just can't seem to fill it.
Ultimately, if you're spending time and effort to fill a leaky bucket, you're putting in an exceptional amount of work and wasting valuable resources. And what's worse…you're trying to solve the wrong problem.
This is what we see schools doing time and time again.
There is a clear problem with teacher retention, but that's a hard problem to solve, so instead, schools rely on sign-on bonuses, attending career fairs, or posting on job boards to backfill roles.
Instead of patching their leaky bucket, they grab a firehose, with the mindset of "if I just get MORE into the bucket, the leaks won't matter as much."
The first problem you need to solve is the leak — and then you can focus on getting more candidates into the pipeline.
Don't spend time, effort, and resources on filling the recruitment bucket. You'll end up watching it spill on the floor.
Retention affects hiring in obvious ways, but there are also impacts it can have on your recruitment strategy and marketing in general.
In a case study exploring teacher hiring trends, it was reported that over 50% of positions were filled by a referral from a current employee. If your school isn't doing enough to support your current employees, you run the risk of not only losing them but also losing their professional network and referrals too.
You need to LISTEN to what your current teachers want — and then you need to actively and transparently address these desires.

A great way to understand your school staff's unique needs is through a culture and climate survey with actionable data.
While every school's needs are different and individual teachers have unique wants, there are common and overarching themes that a teacher retention–first program needs to address.
These themes include a few commonalities:
Collaboration and belonging
Autonomy and empowerment
Trust and support from leaders
Compensation
If you want to run a successful retention-first recruitment program, addressing the domains above is a great way to start.
2. Marketing and Attracting Teachers to Your School
In a competitive market, you need to stand out from the crowd, and education has quickly become one of the most competitive markets in recruitment.
Teacher unemployment is as low as 1% in competitive markets. Nationwide, it's roughly 2.8%.
This is incredibly low and on par with some other fields:
Engineering (2.5%)
Nursing (2.6%)
Computer science (3.5%)
And the rate of teacher unemployment is much lower than the national average of 3.7%. So what does this rate tell us?
Teacher recruitment is an INCREDIBLY competitive market — just as competitive as STEM fields — yet teacher recruitment and STEM recruitment practices could NOT be more different.
IT companies have long been aware of the challenges recruitment presents, and they have implemented innovative solutions and strategies to raise their competitiveness in a saturated market. These include sign-on bonuses, strategic marketing, advertising, and beautiful careers pages.
They don't just post jobs on their website and hope for the best. They intentionally and thoughtfully tell their story, and they explain WHY potential candidates should consider their organization.
Similarly, schools need to adopt best practices for recruiting teachers in high-competition markets.
To do this, they need to make sure their marketing does the job of telling their story in a compelling and interesting way, building attraction and interest in the type of teachers they hope to hire.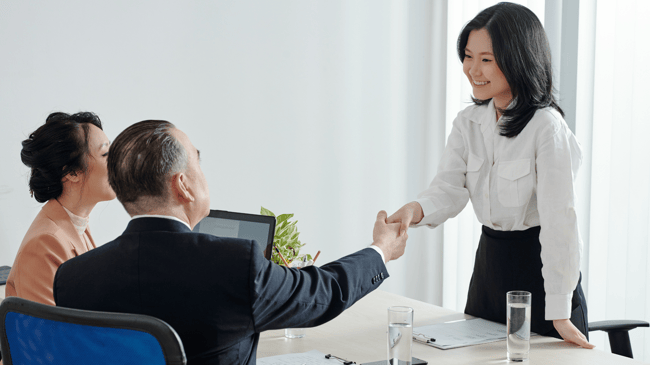 This can be done through social media posts and advertisements targeting potential teacher candidates, a thoughtfully designed careers page, and an intentional communication strategy for how they communicate with and recruit future teachers.
Not sure where to start? Find the most well-known and successful hospital, IT firm, and engineering companies in your area. Check out their careers page, Glassdoor profile, social media, and "About Us" webpage.
These organizations have been successfully competing in a difficult market for years, so look to them as inspiration for how to position your school and attract teachers in a competitive market.
Take this example (below) from Dallas ISD's careers page. Notice how they make it obvious where to go to apply, but they also include a brief paragraph about why you should work there: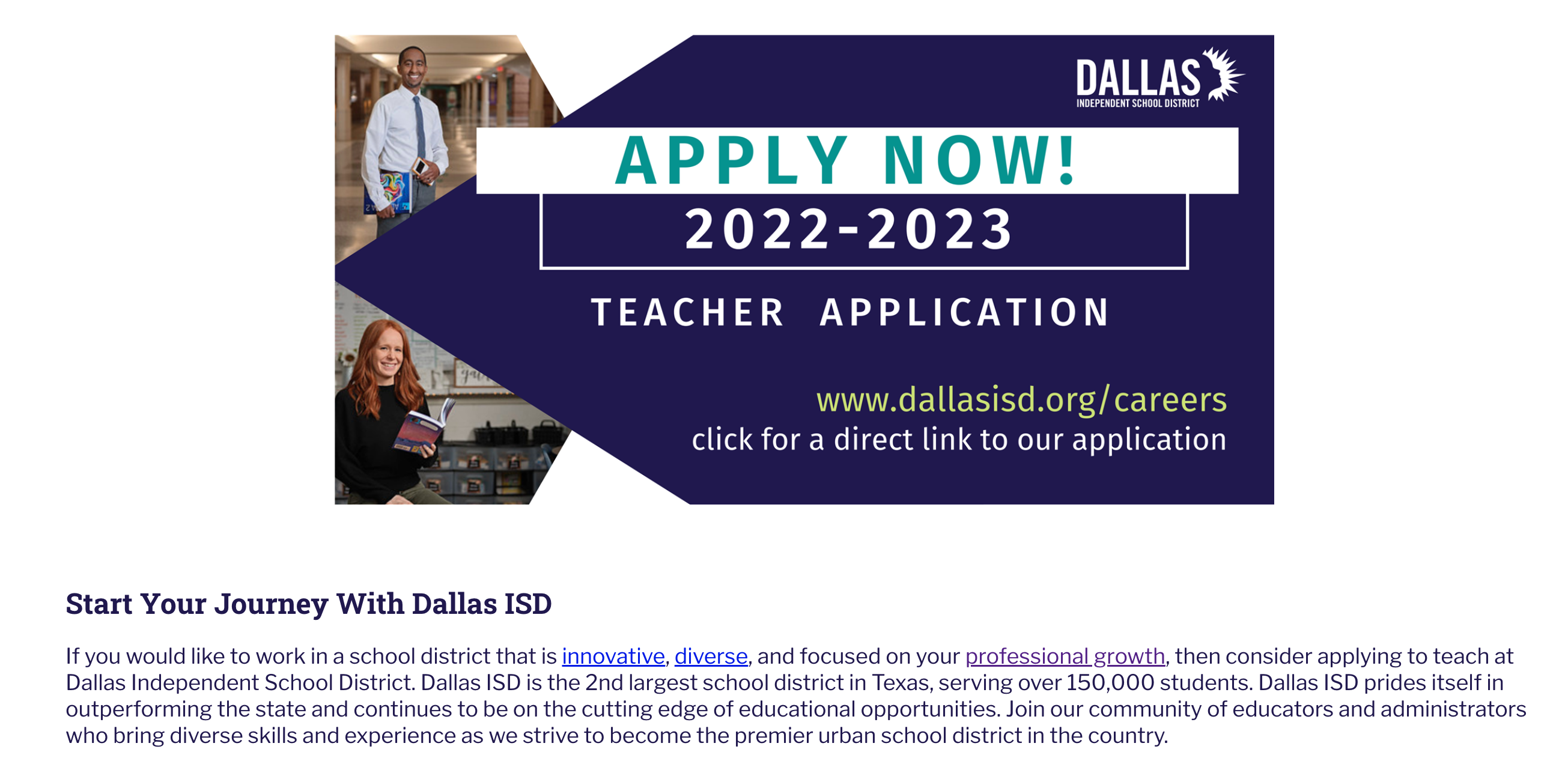 3. Be Intentional with Teacher Recruitment
For so long, schools have posted jobs on their websites and considered that process the entirety of their recruitment strategy. When there were plenty of candidates, that approach — while not ideal — got the job done.
Now you have to do better if you want to fill your teaching positions, particularly after the school year has already started.
Recruiting is a skill, and it isn't just about looking at résumés and conducting interviews.
Intentional recruiting, or head-hunting as it's colloquially referred to, adds incredible value to an organization's recruitment efforts.
This means that rather than waiting for candidates to come to your school, you actively FIND candidates who would be a great asset to your team, and you engage with them. This should go beyond just sending a generic "we're hiring" email or template connection request on LinkedIn.
Intentional recruitment requires effort, time, and investment to work, but it does work. Some great ways to do this in education are to host professional development sessions and invite teachers you'd like to work with, take them out to coffee or lunch as a professional networking effort, or simply stay in touch with them over time.
Ultimately, most of these relationship-building activities will result in just that, positive professional relationships, potentially leading to them joining your team now or in the future.
If this sounds like a great idea but you just don't have the time to do it yourself, it may be worth considering a third-party staffing agency.
These recruiters KNOW recruitment inside and out and can be a trusted source of teacher recruitment best practices and information with regard to the current labor market and potential candidates in your area.
Best of all, most reputable agencies work on contingency, meaning you pay them a percentage of your new hire's salary only if and when you hire their candidate.
4. Reputation Management for Your School
Reviews aren't just for consumers anymore. Future employees look for them too.
In fact, Glassdoor, the workplace review site, has reported that roughly 70% of prospective employees look at online reviews before making career decisions.
Glassdoor is often where employees go BEFORE engaging with a hiring company or visiting your website — meaning it is often the first chance you have to make a good impression.
What are people hearing about what it's like to work at your school?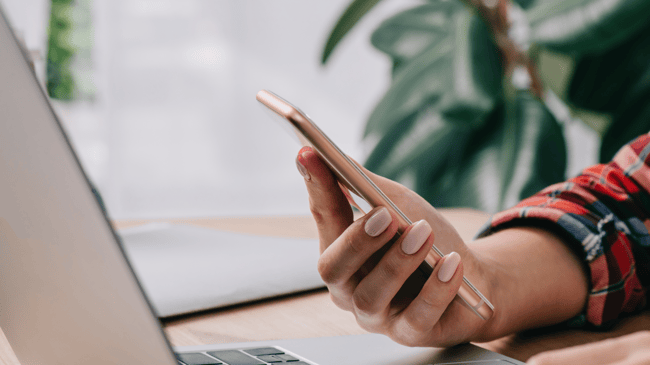 Here are two tips for dealing with your online reputation when it comes to hiring teachers and teacher recruitment:
First, to influence your Glassdoor and other online reviews sites (Indeed, Comparably, Kununu), you need to address culture and climate issues within your school. There's no use in a reviews strategy if you aren't listening and responding to staff concerns authentically in the workplace.
Second, encourage your employees to leave accurate (hopefully positive) feedback on what it's like to work at your school. If you have negative reviews, the best thing you can do is to acknowledge them and move on with the business of getting more recent, positive feedback.
People are likely to make up their minds based on the most recent and common review themes, so don't allow old, negative reviews to influence your audience and instead focus your efforts on soliciting more accurate and recent reviews to better reflect your school as it is now.
Glassdoor, like many other review sites, has the option to claim your employee profile, solicit feedback, and respond to reviews directly on the site.
Activity on the site increases your perceived transparency with prospective employees as well as allows you to highlight photos, benefits information, and more on your profile.
So What to Do Next?
The first step in the process is to take a hard look at your retention issues.
Are there common reasons teachers are leaving, such as benefits you don't provide, a poor school culture, or burnout? (P.S. If burnout is causing teacher retention or even principal retention issues, check out SchoolMint Thrive.)
Your first step is to patch your bucket and ensure that any leaks you can prevent or repair are taken care of. From there, it's up to you!
If you are, like many of us in teacher recruitment, low on time and budget, focus on three high-impact, low-cost efforts first:
Claim your profile(s) on Glassdoor
Solicit reviews from all employees — not just teachers
Improve your online presence
If you're still struggling with hard-to-fill vacancies but have a little wiggle room in the budget, it may be time to bring in an expert third-party recruiter with teacher recruitment experience.
Ultimately, there is no magic, one-size-fits-all solution to teacher recruitment challenges, but by making your schools a great place to work, telling your story well, and implementing best practices for hiring teachers, you can start to move in the right direction.
But if you think you are ready to start attracting candidates, check out our advertising service.
SchoolMint can help you put out ads on social media to attract top-notch candidates through teacher recruitment ads!
No Comments Yet
Let us know what you think